Bioethics in narrative foreshortening: from «science of survival» to the radical ethics of salvation (on the material of R. Kipling's story «The miracle of Purun Bhagat»)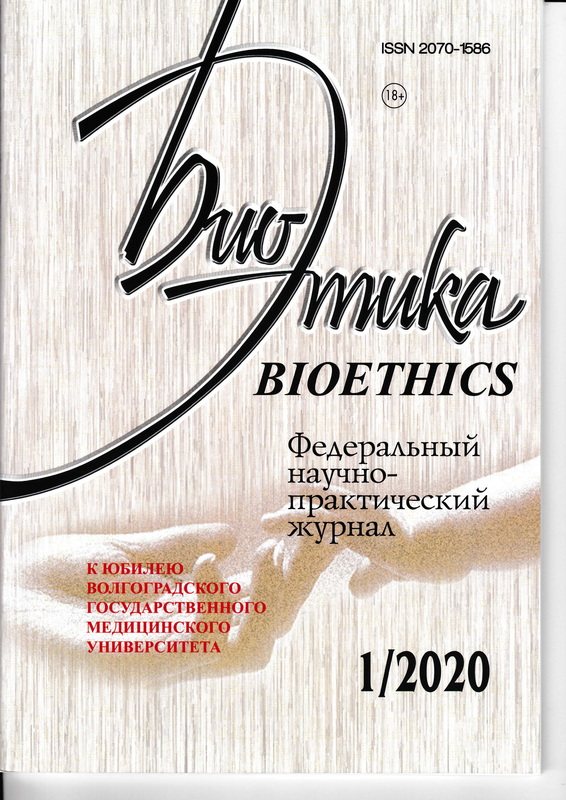 Authors: Smirnov K.S 1
Affiliations:

Volgograd State Medical University

Issue: Vol 13, No 1 (2020)
Pages: 5-9
Section: Articles
Abstract
The increasingly foreshortening of bioethics known as narrative and even literary bioethics is analyzed in article. This analysis is realized on the material of Rudyard Kipling's story «The miracle of Purun Bhagat». Deconstruction in its ethical aspect comes out in this case as method of the overcoming of logocentrism and becomes radicalization of ethics. The talk is about consideration of bioethics not simply as the science of survival but as radical ethics of the salvation of life. The text of the story is interpreted as pharrmacon, remedy, sure remedy for human consciousness, society and nature. The result of the analysis is the idea of the consideration of conservative bioethics as radical ethics of salvation and science about spiritual-moral essence of human. This essence is consciousness, which is always moral consciousness in contradiction to intellect deprivated of moral dimension and leading humankind on the way of catastrophic progress to transhumanistic, posthuman future.
Full Text

About the authors
Volgograd State Medical University
Email: zzzzzz111@mail.ru
Volgograd
PhD, Associate professor of the Philosophy, Bioethics and Law Department with the Course of Medical Sociology
References
Киплинг Р. Рассказы. На англ. яз. - М.: ОАО Издательство «Радуга», 2004. - 128 с.
Прямицин В.Н., Смирнов К.С., Реймер М.В. О противоречивой связи биоэтики и события (медикализации социума и социализации медицины) // Биоэтика. - 2018. - № 1 (21). - С. 15.
Седова Н.Н. Мысли о биоэтике. Избранные статьи и фрагменты. - Волгоград: Изд-во ВолгГМУ, 2018. - 188 с.
Соммэр Д.С. Мораль XXI века. - М.: Издательство «Кодекс», 2019. - 480 с.
Стрельченко В.И. Биоэтика благоразумия и аксиология безрассудства // Биоэтика. - 2019. - № 1 (23). - С. 7.
Филд Джейкоб. Есть ли будущее у капитализма? -М.: Ад Маргинем Пресс, 2019. - 144 с.
Шпенглер О. Человек и техника // Культурология. XX век. Антология. - М.: Юрист, 1995. - С. 489.