METHOD OF VIBRATION AND COMPRESSION ON THE CHEST IN COMPLEX THERAPY OF COPD EXACERBATIONS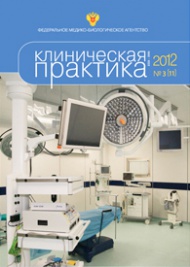 Authors: Turusina TA1, Averyanov AV1, Sotnikova AG1
Affiliations:

Issue: Vol 3, No 3 (2012)
Pages: 14-20
Section: Articles
Abstract
The results of the dynamics of clinical symptoms, functional parameters, quality of life in patients with COPD exacerbation under vibration and compression effects on the chest with the apparatus for physiotherapy are presented.
МЕТОД ВИБРАЦИОННО-КОМПРЕССИОННОГО ВОЗДЕЙСТВИЯ НА ГРУДНУЮ КЛЕТКУ В КОМПЛЕКСНОЙ ТЕРАПИИ ОБОСТРЕНИЯ ХРОНИЧЕСКОЙ ОБСТРУКТИВНОЙ БОЛЕЗНИ ЛЕГКИХ
The Global Initiative for Chronic Obstructive Lung Disease (GOLD). Update 2009. www.goldcopd.com
Респираторная медицина. Руководство в 2-х т./ Под общ ред. А.Г. Чучалина. М.: ГЭОТАР-Медиа, 2007.
Rubin BK. Designing clinical trials to evaluate mucus clearance therapy. Respir Care 2007; 52(10): 1348-1358.
McCool FD, Rosen MJ. Nonpharmacologic air-way clearance therapies: ACCP evidence-based clinical practice guidelines. Chest 2006;129:250S-9S.
King M, Phillips DM, Zidulka A, Chang HK. Tracheal mucus clearance in high-frequency oscillation. II: Chest wall versus mouth oscillation. Am Rev Respir Dis. 1984;130:703-6.
Darbee JC, Kanga JF, Ohtake PJ. Physiologic evidence for high-frequency chest wall oscillation and positive expiratory pressure breathing in hospitalized subjects with cystic fibrosis. Phys Ther. 2005;85:1278-89.
Perry RJ, Man GC, Jones RL. Effects of positive end-expiratory pressure on oscillated flow rate during high-frequency chest compression. Chest. 1998 Apr;113(4):1028-33.