PERSISTENT HERPES VIRUS INFECTIONS IN PATIENTS WITH CHRONIC GLOMERULONEPHRITIS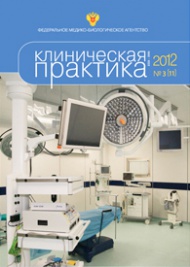 Abstract
Virological studies of blood, urine, and saliva in 75 patients with chronic glomerulonephritis (GN) revealed that 95% had herpesvirus infections, caused by herpes simplex virus (HSV) types 1 (34.4%) and 2 (2.6%), cytomegalovirus (CMV) (12%) or mixed (HSV + CMV) infection (46%). In the control group, the children without renal diseases had the infection rate significantly less – 12% (HSV (9%) and CMV (3%). Most (94%) patients were found to have a diagnostically significant level of antiherpetic IgG antibodies, which also suggests chronic herpesvirus infection. Specific IgM antibodies were also detectable when the viruses were isolated.
Keywords
Full Text
ПЕРСИСТИРУЮЩИЕ ГЕРПЕСВИРУСНЫЕ ИНФЕКЦИИ У БОЛЬНЫХ ХРОНИЧЕСКИМ ГЛОМЕРУЛОНЕФРИТОМ
References
Herrera GA, Alexander RW, Cooley CF et al. Cytomegalovirus glomerulopathy: а controversial lesion// Kidney Int. 1986 Mar;29(3):725-33.
Wong SN, Yu EС, Lok AS et al. Interferon treatment for hepatitis B-associated membranous glomerulonephritis in two Chinese children// Pediatr Nephrol. 1992 Sep;6(5):417-20.
Бирюков Ю.А. Гломерулонефрит у детей с НВ-вирусной инфекцией// Педиатрия. 1980. №2, стр. 20-23.
Harmon IB, Sibley RK, Peterson P, Ferguson R. Cytomegalovirus viremia and renal allograft morphology: are there distinct pathologic features? Lab nvest. 1986; v46., p.35.
Катышева О.В., Новикова А.В., Длин В.В. и др. Вирусные антигены в биоптатах почечной ткани у детей с гломерулонефритом// Вопр вирусол. 1995. Т. 40, №1, стр. 35-39.
Вартанян Р.В., Моргунов К.В., Кетиладзе Е.С. и др. Клинико-иммунологические особенности смешанной цитомегаловирусной и респираторной вирусной инфекции у детей раннего возраста. Педиатрия. 1988. №9, стр 15-19.
Войлокова Р.Я., Посевая Т.А., Карахан Н.М. и др. Диагностика герпесвирусной инфекции у больных с аллотрансплан- татированными органами//Вопр вирусол. 1991. Т. 36, №5 стр. 214-216.
Войлокова Р.Я., Посевая Т.А., Шабалина Н.В. и др. Влияние герпесвирусной инфекции на результаты аллотрансплантации почки// Вопр вирусол. 1992. Т. 37, №4, стр 204-206.
Львов Н.Д., Никитина А.А., Свешников П.Г. и др. Использование набора современных методов исследования для экспесс-диагностики герпесвирусной инфекции в клиничесом материале гинекологического, офтальмологического и стоматологического профиля. Сб-к "Герпесвирусные инфекции (диагностика, лечение)", М., 1990, стр 5-14.
Львов Н.Д., Никитина А.А., Свешников П.Г. и др. Сопоставление результатов анализа клинических материалов гинекологического, офтальмологического и стоматологического профилей набором экспресс-методов диагностики герпесвирусной инфекции// Вопр вирусол. 1991. Т. 36., №4, стр. 315-318.
Баринский И.Ф., Шубладзе А.К., Каспаров А.А., Гребенюк В.Н. Герпес, этиология, диагностика, лечение. М.: Медицина, 1986. 322 с.
Баринский И.Ф., Каспаров А.А., Лазаренко А.А. и др. Инактивированные специфические вакцины как средство иммунопрофилактики при хронических вирусных инфекциях// Биопрепараты. 2002. №2, стр. 18-21.