SURGICAL CORRECTION OF IDIOPATHIC SCOLIOSIS BY ROD SYSTEM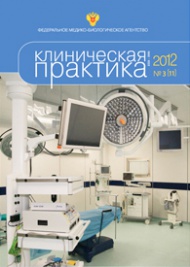 Abstract
In this article the results of surgical treatment of 150 patients with adult idiopathic scoliosis are presented. We used a rod instrumentation LSZ-3 of full and selective fusion of primary curve. Application of the core endocorrector LSZ-3 allowed to reduce the traumatism of surgical treat- ment and the risk of fatigue fractures of endocorrector components. This method improved both the physical adaptation of the patients after the operation and their quality of life.
Keywords
Full Text
ХИРУРГИЧЕСКАЯ КОРРЕКЦИЯ ИДИОПАТИЧЕСКОГО СКОЛИОЗА СТЕРЖНЕВЫМ ЭНДОКОРРЕКТОРОМ
References
Schwab F, el-Fegoun AB, Gamez L, et al. A lumbar classification of scoliosis in the adult patient:preliminary approach. Spine 2005;30:1670-3.
Ponseti I.V., Friedman B. Prognosis in idiopathic scoliosis //J Bone Joint Surg Am. 1950 Apr;32A(2):381-95.
Diab M. Orthopaedic jargon//J Pediatr Orthop. 2002; 22:701-702.
Reamy BV, Slakey JB. Adolescent idiopathic scoliosis: review and current concepts // Am Fam Physician. 2001 Jul 1;64(1):111-6.
Luque E.R. Segmental spinal instrumentation for correction of scoliosis // Clin Orthop Relat Res. 1982 Mar;(163):192-8.
Lenke LG, Dobbs MB. Idiopathic scoliosis. Pediatric Spine - editor, Lawrence G. Lenke - The Adult and Pediatric Spine. Frymoyer JW & Wiesel S ( eds.), Lippincott Williams & Wilkins, Philadelphia, Pennsylvania, 2004. pp 337-60.
Cotrel Y., Dubousset J., Guillaumat M. New universal instrumentation in spinal surgery // Clin Orthop Relat Res. 1988 Feb;227:10-23.
Chang KW, Chang KI, Wu CM. Enhanced capacity for spontaneous correction of lumbar curve in the treatment of major thoracic-compensatory C modifier lumbar curve pattern in idiopathic scoliosis. Spine 2007 Dec 15;32(26):3020-9.