THE CLINICAL CASE OF THE PREVALENCE OF DERMATOLOGICAL MANIFESTATIONS IN PATIENT WITH NONSPECIFIC ULCERATIVE COLITIS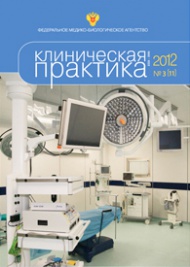 Abstract
The clinical case of the patient with prevalence of extraintestinal manifestations (dermatological) of nonspecific ulcerative colitis is discussed. The diagnostic of nonspecific ulcerative colitis with insignificant intestinal symptomatology is very difficult. A correct estimation of all symptoms is promoting the timely diagnostic. This is leads to early administration of appropriate therapy, and allows to get the remission of ulcerative colitis.
Full Text
КЛИНИЧЕСКОЕ НАБЛЮДЕНИЕ ПАЦИЕНТА С ПРЕОБЛАДАНИЕМ ДЕРМАТОЛОГИЧЕСКИХ ПРОЯВЛЕНИЙ ПРИ НЕСПЕЦИФИЧЕСКОМ ЯЗВЕННОМ КОЛИТЕ
References
Адлер Г. Болезнь Крона и язвенный колит: Пер. с нем. М.: ГЭОТАР-МЕДИЦИНА, 2001. 528 с.
Evans P.E. Inflammatory Bowel Disease Clinic, Division of Gastroenterology and Hepatology, Miles and Shirley Fiterman Center for Digestive Diseases, Mayo Clinic College of Medicine, Rochester, Minnesota Authors'. Extraintestinal Manifestations of Inflammatory Bowel Disease: Focus on the Musculoskeletal, Dermatologic, and Ocular Manifestations. www.pubmedcenrtal.nih.gov.
Григорьева Г.А., Мешалкина Н.Ю., Репина И.Б. Неспецифический язвенный колит и болезнь Крона: диагностика и лечение осложненных форм. www.gastro.ru.
Kamm A.M. Inflammatory bowel disease. Martin Dunitz Ltd, 1999. 98 p.
Златкина А.Р., Белоусова Е.А. Внекишечные проявления болезни Крона // Росс журн гастроэнтерол гепатол колопроктол. 2000. Т. 10, № 6. С. 60-64.
Кушнир И.Э. Внекишечные проявления хронических ВЗК // Мед. газета "Здоровье Украины". № 7/1. 2007. С. 64-67.
Tavarela F. Inflammatory extraintestinal manifestations associated with IBD//International. 1994. P. 232-236.
Plauth M., Jenss H., Meyle J. Oral manifestations of Crohn's disease // J Clin Gastroenterol. 1991 Feb;13(1):29-37.
Callen J.P. Pyoderma gangrenosum and related disorders // Med Clin North Am. 1989. Vol. 73. P. 1247-61.