Influence of koraksan treatment on vascular wall condition, immunology inflamation and heart rate variability and in patients with ischemic heart disease: stable angina pectoris II-III FC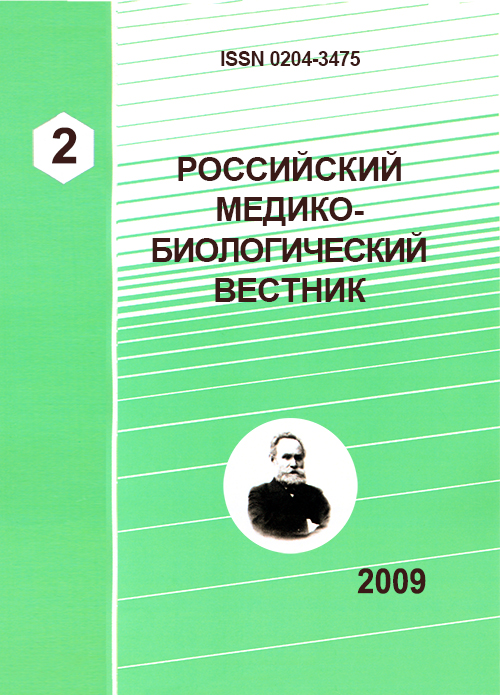 Abstract
Alterations of heart rate variability, parameters of vascular wall elasticity and possibilities it's correction with koraksan have studied in 60 patients with ischemic heart disease: stable angina pectoris II-III FC. Corrective influence of koraksan was established on pulse transit time, parameters of immunology inflammation and autonomic regulating parameters of heart activity.
Keywords
References
Asmar R. Arterial Stiffness and pulse wave velocity. Clinical Implications / R. Asmar.- Paris: Elservier,. 1999.- 167 p.
Высокое систолическое давление: акцент на эластически свойства артерий / Ж.Б. Кобалава [и др.] // Кардиоваскулярная терапия и профилактика.- 2006.- Т.5,№6.- С.11.
Особенности популяции, диагностика, вторичная профилактика и антиангинальная терапия у пациентов с диагнозом стабильная стенокардия / Р.Г. Оганов [и др.] // Кардиоваскулярная терапия и профилактика.- 2006.- Т.1,№5.- С.49.
Демидова И.В. Влияние бисопролола на вариабельность сердечного ритма у больных хронической сердечной недостаточностью III-IV функционального класса по NYHA / И.В. Демидова, С.Н. Терещенко, B.C. Моисеев // Тез. VII Рос. нац. конгр. "Человек и лекарство".- М., 2000.- С. 34.
Коновалова Т.П. Современные представления о нарушении липидного обмена у больных ИБС / Т.П. Коновалова // Сиб. мед. журн.- 2005.- №5.- С.13-19.
Кремнева Л.В. Липопротеины низкой плотности и воспаление как факторы риска ИБС. Плейотропные эффекты статинов в профилактике сердечно-сосудистых осложнений / Л.В. Кремнева, С.В. Шалаев // Клинич. фармакология и фармакотерапия. - 2003. - №3. - С. 36-39
Лупанов В.П. Кардиоселективный β-адреноблокатор небиволол в лечении больных с сердечно-сосудистыми заболеваниями / В.П. Лупанов // РМЖ. - 2007.- Т.15, №20. - С. 1453-1459.
Влияние терапии кораксаном на перфузию головного мозга у больных с метаболическим синдромом / В.Б. Мычка [и др.] // Consilium-medicum. - 2006. - №1. - С.15-22.
Цитокины и их роль в патогенезе заболеваний сердца / Н.Р. Палеев [и др.] // Клинич. медицина.- 2004. - №5. - С.4-7.
Guidelines on the management of stable angina pectoris - executive summary. The Task Force on the Management of stable angina pectoris of the European Society of Cardioilogy // Eur.Heart J.- 2006.- Р.1341-1381.