Management of Missed Traumatic Achilles Tendon Rupture in a Pediatric Patient: A Case Report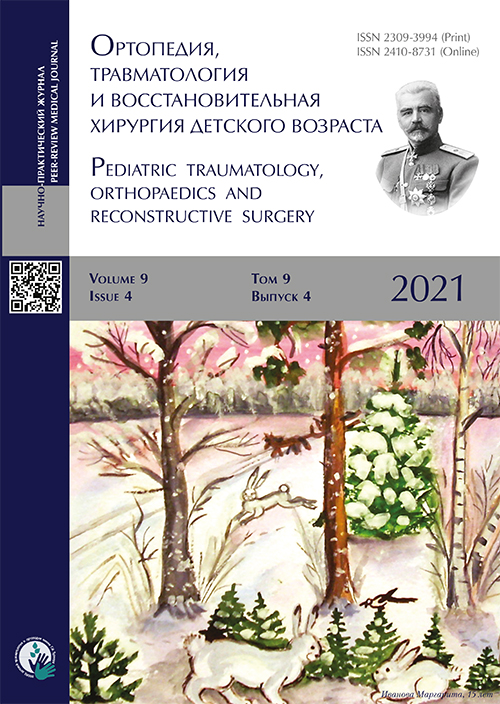 Authors: Andaloussi S.1
Affiliations:

Marche Verte Hospital, Regional Delegation of Public Health Boulemane

Issue: Vol 9, No 4 (2021)
Pages: 465-470
Section: Сase report
Cite item
Full Text

Open Access
Access granted

Subscription or Fee Access
Abstract
BACKGROUND: Missed traumatic Achilles tendon ruptures in children are rarely reported in the literature. Various techniques have been described to reconstruct delayed Achilles tendon ruptures for adults, but the long-term consequences in the growing child are unknown.
CLINICAL CASE: The article presents a clinical observation of a 8-year-old girl with missed rupture of the Achilles tendon operated 7 weeks after the trauma by end-to-end Kessler-type sutures augmented with the plantaris tendon. At 2-year follow-up, the patient was completely asymptomatic.
DISCUSSION: A review of the literature shows that this is the third neglected pediatric case of post-traumatic Achilles tendon rupture. The first case concerns a 10-year-old boy treated successfully six weeks after the traumat by open surgical repair using the Bunnell sutures technique. The second patient was a 7-year-old girl, she was operated 8 weeks after the trauma with a termino-terminal tenorrhaphy using the Bunnell technique augmented with the plantaris tendon.
CONCLUSIONS: Using the plantaris tendon to reinforce the Achilles tendon repair offers satisfactory results with minimal morbidity. Prognosis depends on the extent of tendon defect which determines the long-term functional outcome. Any skin wound that sits on the back of the leg requires a systematic and careful physical examination to check the integrity of the Achilles tendon.
Keywords
Full Text

About the authors
Marche Verte Hospital, Regional Delegation of Public Health Boulemane
Author for correspondence.
Email: andaloussi.saad@yahoo.com
ORCID iD: 0000-0002-5382-1481

MD, pediatric surgeon
Morocco, Avenue Annakhil, Missour 33250
References
Gabel S, Manoli A. Neglected rupture of the Achilles tendon. Foot Ankle Int. 1994;15(9):512−517. doi: 10.1177/107110079401500912
Lynn TA. Repair of the torn achilles tendon, using the plantaris tendon as a reinforcing membrane. J Bone Joint Surg Am. 1966;48(2):268−272.
Quigley TB, Scheller AD. Surgical repair of the ruptured Achilles tendon: Analysis of 40 patients treated by the same surgeon. Am J Sports Med. 1980;8(4):244−250. doi: 10.1177/036354658000800406
Akdogan M, Atilla HA, Barca F. Pediatric Achilles tendon laceration: a case report and systematic review of literature. MOJ Sports Med. 2018;2(5):153–156. doi: 10.15406/mojsm.2018.02.00066
Maffulli N. Clinical tests in sports medicine: more on Achilles tendon. Br J Sports Med. 1996;30(3):250−250. doi: 10.1136/bjsm.30.3.250
Maffulli N. Current concepts review – rupture of the Achilles tendon. J Bone Joint Surg. 1999;81(7):1019−1036. doi: 10.2106/00004623-199907000-00017
Thompson TC. A test for rupture of the tendo achillis. Acta Orthop Scand. 1962;32(1-4):461−465. doi: 10.3109/17453676208989608
Vasileff WK, Moutzouros V. Unrecognized pediatric partial Achilles tendon injury followed by traumatic completion: A case report and literature review. J Foot Ankle Surg. 2014;53(4):485−488. doi: 10.1053/j.jfas.2014.02.016
Tudisco C, Bisicchia S. Reconstruction of neglected traumatic Achilles tendon rupture in a young girl. J Orthopaed Traumatol. 2012;13(3):163−166. doi: 10.1007/s10195-012-0178-y
Eidelman M, Nachtigal A, Katzman A, Bialik V. Acute rupture of achilles tendon in a 7-year-old girl. J Pediatric Orthop B. 2004;13(1):32−33. doi: 10.1097/01.bpb.0000078723.48512.7e
Hadi M, Young J, Cooper L, et al. Surgical management of chronic ruptures of the Achilles tendon remains unclear: a systematic review of the management options. Br Med Bull. 2013;108(1):95−114. doi: 10.1093/bmb/ldt019
Porter DA, Mannarino FP, Snead D, et al. Primary repair without augmentation for early neglected achilles tendon ruptures in the recreational athlete. Foot Ankle Int. 1997;18(9):557−564. doi: 10.1177/107110079701800905
Bosworth DM. Repair of defects in the tendo achillis. J Bone Joint Surg Am. 1956;38-A(1):111−114.
Abraham E, Pankovich AM. Neglected rupture of the Achilles tendon. Treatment by V-Y tendinous flap. J Bone Joint Surg Am. 1975;57(2):253−255.
Bugg EI, Boyd BM. Repair of neglected rupture or laceration of the Achilles tendon. Clin Orthop Relat Res. 1968;56:73−75.
Maffulli N, Spiezia F, Testa V, et al. Free gracilis tendon graft for reconstruction of chronic tears of the Achilles tendon. J Bone Joint Surg. 2012;94(10):906−910. doi: 10.2106/JBJS.K.00869
McClelland D, Maffulli N. Neglected rupture of the Achilles tendon: Reconstruction with peroneus brevis tendon transfer. Surgeon. 2004;2(4):209−213. doi: 10.1016/S1479-666X(04)80002-7
Wapner KL, Pavlock GS, Hecht PJ, et al. Repair of chronic Achilles tendon rupture with flexor hallucis longus tendon transfer. Foot Ankle. 1993;14(8):443−449. doi: 10.1177/107110079301400803
Mann RA, Holmes GB, Seale KS, Collins DN. Chronic rupture of the Achilles tendon: a new technique of repair. J Bone Joint Surg Am. 1991;73(2):214−219.
Razik ISA. Surgical treatment of chronic Achilles tendon rupture. J Foot Ankle Surg. 2009;48(3):340−346. doi: 10.1053/j.jfas.2009.02.007
Wong J, Barrass V, Maffulli N. Quantitative review of operative and nonoperative management of Achilles tendon Rruptures. Am J Sports Med. 2002;30(4):565−575. doi: 10.1177/03635465020300041701
Schepsis AA, Jones H, Haas AL. Achilles tendon disorders in athletes. Am J Sports Med. 2002;30(2):287−305. doi: 10.1177/03635465020300022501
Supplementary files
Supplementary Files
Action
1.
Fig. 1. Clinical examination: a, the patient has increased dorsiflexion of the ankle joint (arrow) compared to the contralateral side; b, healed skin wound of about 4 cm in the mid-portion of the tendon; c, presence of visible and palpable tendon depression indicating the location of the defect
2.
Fig. 2. Stages of surgical intervention: a, posteromedial skin incision centered on the rupture; b, gap between the two tendon stumps was approximately 3 cm after the tendon edges are mobilized; c, plantaris tendon was harvested leaving the distal end inserted; d, final view of the reconstructed Achilles tendon using plantaris tendon as an augmentation
3.
Fig. 3. Two years after the surgery: a, plantarflexion strength is the same as the uninjured side; b, the patient is able to do a heel raise; c, no skin complications have been noted