A comparative analysis of genetic diversity of natural elk (Alces alces L.) populations from European Russia and Sumarokov elk farm population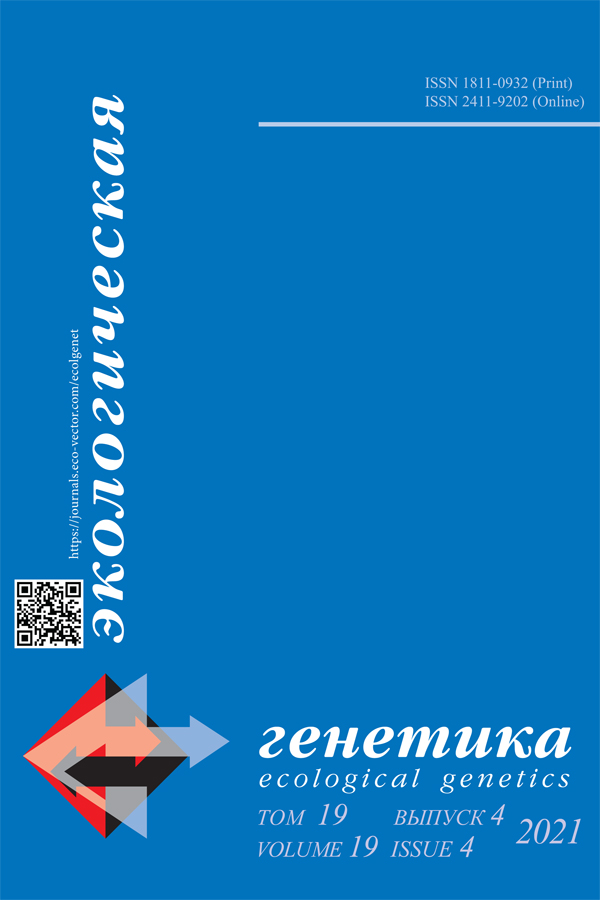 Authors: Makeeva V.M.1, Smurov A.V.1, Kaledin A.P.2, Ostapchuk A.M.2, Alazneli I.D.1, Snegin E.A.3
Affiliations:

Lomonosov Moscow State University
Russian State Agrarian University – Moscow Timiryazev Agricultural Academy Institution of Zootechnics and Biology
Belgorod State University

Issue: Vol 19, No 4 (2021)
Pages: 303-312
Section: Genetic basis of ecosystems evolution
Cite item
Full Text

Open Access
Access granted

Subscription or Fee Access
Abstract
AIM: The aim of the study is to compare the genetic diversity of two natural elk populations from the hunting farms in adjacent regions (Kostromskaya and Yaroslavskaya oblasts) with that of the man-made population of an elk farm.
MATERIALS AND METHODS: The genetic diversity analysis was carried out using DNA-markers represented by nine microsatellite loci (169 samples).
RESULTS: The genetic diversity level in the wild populations is reliably higher than in the elk farm population: the average allele-per-locus numbers (NA) for the natural populations are 9.0 and 8.6 respectively, for the elk farm population – 5.9. All the populations studied do not differ in average heterozygosity level. The allele frequency heterogeneity test shows that all the populations differ in 6 loci and a sum of 9 loci, the natural populations differ in 5 loci, and the elk farm population differs from both the natural ones in the same 3 loci. The inbreeding coefficient for the Yaroslavskaya population (0.167) is way higher than for the Kostromskaya population (0.053), it is 0.165 for the elk farm population. With the identified gene flow (Nm = 16.7), the genetic divergence of the wild populations persists, so they do not stem from a single population.
CONCLUSIONS: The slump found in the genetic diversity of natural elk population points to the necessity of gene pool enrichment, and the high inbreeding in wild populations implies that control over gene pool is needed.
Keywords
Full Text

References
Kaledin AP, Yuldashbaev YuA., Kubatbekov TS, et al. Economic and mathematical model for size and structure optimisation of predator and prey populations. International journal of recent technology and engineering (IJRTE-BEIESP). 2019;8(4):9081–9090. doi: 10.35940/ijrte.D4540
Kaledin AP, Ostapchuk AM, Makeeva VM, et al. Dinamika chislennosti populyatsii okhotnich'ikh zverei i ptits i ikh stoimostnaya otsenka v Kostromskom regione. Proceedings of the 8 International science conference "Sokhranenie raznoobraziya zhivotnykh i okhotnich'e khozyaistvo Rossii"; 2019 Feb 21–22; Moscow; 2019 Feb 21–22; Ivanovo: PK PreSSto, 2019. P. 132–135. (In Russ.)
Kaledin AP, Nikolaev AA, Filatov AI, et al. Regional forecasts of population dynamics of elk in the Yaroslavl Region on the basis of model experiments. International scientific journal. 2017;(3):43–47. (In Russ.)
Altukhov YuP. Geneticheskie protsessy v populyatsiyakh: uchebnoe posobie. 3-e izd., pererab. i dop. Moscow: IKTS Akademkniga, 2003. 431 p. (In Russ.)
Makeeva VM, Belokon MM, Smurov AV. Genourbanology as the basis for stable biodiversity and ecosystem conservation under global urbanization. Uspekhi sovremennoi biologii. 2013;133(1):19–34. (In Russ.) doi: 10.1134/S207908641304004X
Makeeva VM, Smurov AV, Kaledin AP, et al. On the necessity of monitoring the gene pool of Elk populations (Alces alces L.) in elk farms. Con Dai & Vet Sci. 2020;3(5):356–358. doi: 10.32474/CDVS.2020.03.000175
Bishop MD, Kappes SM, Keele JW, еt al. A genetic linkage map for cattle. Genetics. 1994;(136):619–639. doi: 10.1093/genetics/136.2.619
Moore SS, Barendse W, Berger KT, et al. Bovine and ovine DNA microsatellites from the EMBL and GENBANK databases. Animal Genetics. 1992;(23):463–467. doi: 10.1111/j.1365–2052.1992.tb02168.x
Rǿed КН, Midthjell L. Microsatellites in reindeer, Rangifer tarandus, and their use in other cervids. Mol Ecol. 1998;(7):1773–1776. doi: 10.1046/j.1365-294x.1998.00514.x
Wilson GA, Strobeck C, Wu L, Coffin JW. Characterization of microsatellite loci in caribou Rangifer tarandus, and their use in other Artiodactyls. Mol Ecol. 1997;(6):697–699. doi: 10.1046/j.1365-294X.1997.00237.x
Glynis NR Price. Phylogeography and structuring of Moose (Alces alces) populations in Ontario, Canada [dissertation]. Canada, Ontario: Trent University Peterborough, 2016. 136 p.
Yeh FC, Yang R, Boyle T. POPGENE (version 1.32): Microsoft Windows-based freeware for population genetic analysis. Univ Alberta, Center Int Forest Res: Edmonton, 1999.
Peakall R, Smouse PE. GenAIEx V6: Genetic analysis in Excel. Population genetic software for teaching and research. Mol Ecol Notes. 2006;6(1):288–295. doi: 10.1111/j.1471-8286.2005.01155.x
Peakall R, Smouse PE. GenAlEx 6.5: genetic analysis in Excel. Population genetic software for teaching and research-an update. Bioinformatics. 2012;(28):2537–2539. doi: 10.1093/bioinformatics/bts460
Wright S. Random drift and shitting balance theory and evolution. In: Mathematical topics in population genetics. Berlin: Springer-Verlag: 1970. P. 1–31. doi: 10.1007/978-3-642-46244-3_1
Nei M. Genetic distance between populations. The American Naturalist. 1972;(106):283–292. doi: 10.1086/282771
Panchenko DV, Topchieva LV, Rendakov NL, et al. Genetic diversity of Karelian moose population: microsatellite analysis. Vestnik okhotovedeniya. 2010;7(2):280–283. (In Russ.) doi: 10.25687/1996–6733.prodanimbiol.2018.1.75–82
Marzanov NS, Devrishov DA, Marzanova SN, et al. Population-genetic characteristics of moose by microsatellite loci. Problems of Productive Animal Biology. 2018;(1):75–82. (In Russ.) doi: 10.25687/1996-6733.prodanimbiol
Youngmann JL, Deyoung RW, Demaralis S, et al. Genetic characteristics of restored elk populations in Kentucky. The Journal of wildlife management. 2020;84(3):515–523. doi: 10.1002/jwmg.21817
Galarza JA, Sanchez-Fernandez B, Fandos P, Soriguer R. Intensive management and natural genetic variation in Red deer (Cervus elaphus). Journal of Heredity. 2017;108(5):496–504. doi: 10.1093/jhered/esx052
Kholodova MV, Davydov AV, Meshcherskii IG, et al. Izuchenie molekulyarno-geneticheskogo raznoobraziya losya (Alces alces L.) tsentral'noi i severo-zapadnoi chasti Rossii: analiz mtDNK. Vestnik okhotovedeniya. 2005;2(1):26–33. (In Russ.)
Patent RUS № 2620079/ 21.05.17. Byul. No. 15. Makeeva VM, Smurov AV. Sposob podderzhaniya zhiznesposobnosti populyatsii zhivotnykh ili rastenii na urbanizirovannykh territoriyakh. (In Russ.)
Supplementary files
There are no supplementary files to display.