The intrapartum fetal occiput posterior position predictors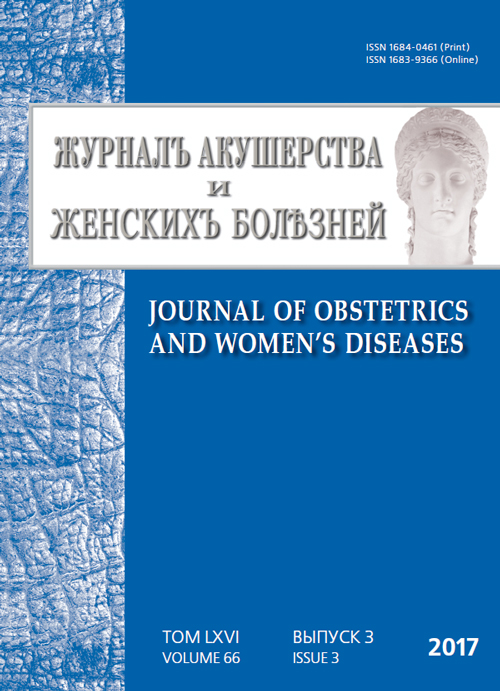 Authors: Arnt O.S., Bolotskikh V.M.
Issue: Vol 66, No 3 (2017)
Pages: 34-41
Abstract
Fetal malpresentation, including persistent occipitoposterior position, is a major cause of cesarean section. Maternal outcomes are often worse are more common than with fetal occiput anterior positions. To identify maternal risk factors associated with persistent occiput posterior position at delivery. Calculations were made to predict the implementation of the fetal rotation.
Olga S. Arnt
Author for correspondence.
olga.arnt@gmail.com
North-Western State Medical University named after I.I. Mechnikov
Russian Federation, 41, Kirochnaya street, Saint-Petersburg, 191015
assistant, Departament of Obstetrics and Gynecology named after S.N. Davidov
Vyacheslav M. Bolotskikh
iagmail@ott.ru
FSBSI "The Research Institute of Obstetrics, Gynecology and Reproductology named after D.O. Ott"
Russian Federation, 3, Mendeleevskaya line, Saint Petersburg, 199034
MD, PhD, specialist, Deputy Chief of Clinical Affairs
Арнт О.С., Троик Е.Б., Гаджиева Т.С. Задний вид затылочного предлежания плода // Журнал акушерства и женских болезней. – 2014. – № 2. – С. 12–21. [Arnt OS, Troik EB, Gadzhieva TS. Zadnij vid zatylochnogo predlezhanija ploda. Journal of Obstetrics and Women's Diseases. 2014;(2):12-21. (In Russ).]
Carseldine WJ, Phipps H, Zawada SF, et al. Does occiput posterior position in the second stage of labour increase the operative delivery rate? Aust NZ J Obstet Gynaecol. 2013Jun;53(3):265-70. doi: 10.1111/ajo.12041.
Cheng YW, Shaffer BL, Caughey AB. Associated factors and outcomes of persistent occiput posterior position: A retrospective cohort study from 1976 to 2001. Journal of Maternal-Fetal and Neonatal Medicine. 2006;19(9):563-8.
Zabeo L, Balzing MP, Tramier D, et al. La rotation des varieties posterieures et transvers en occipito-sacre: etude dynamique du travail. La lettre du Gynecologue. 2008;334:30-3.
Malvasi A, Tinelli A, Brizzi A, et al. Intrapartum sonography head transverse and asynclitic diagnosis with and without epidural analgesia initiated early during the first stage of labor. European Review for Medical and Pharmacological Sciences. 2011;15(5):518-23.
Caughey AB, Sharshiner R, Cheng YW. Fetal malposition: impact and management. Clin Obstet Gynecol. 2015;58(2):241-5. doi: 10.1097/GRF.0000000000000106.
Views
Abstract - 89
PDF (Russian) - 74