Standard approach to ultrasound investigation of monochorionic twin pregnancy in centers of primary and secondary level of care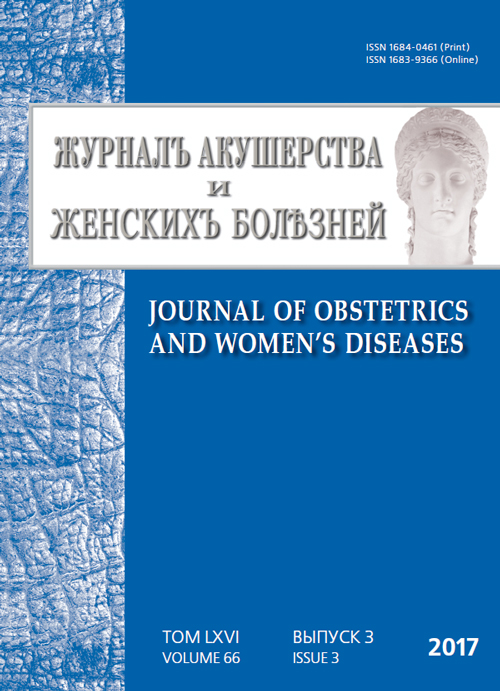 Authors: Nekrasova E.S.
Issue: Vol 66, No 3 (2017)
Pages: 105-109
Abstract
Introduction. Management of multiple pregnancy complicated by twin-to-twin transfusion syndrome (TTTS) is one of the most difficult parts of contemporary obstetrics. This syndrome develops only in presence of anastomoses in common placenta of monochorionic twins. Without intrauterine correction of severe TTTS in 80-100% of cases one or both twins die in utero.
The aim of this study is to define the signs that can help in differentiation of monochorionic twins to low or high risk group that needs to be managed in centers of secondary level of care. We investigated 115 monochorionic twin pregnancies at gestational age weeks.
Materials and methods. There was 214 ultrasound and Doppler studies in total.
Results. We measured biometric parameters of both fetuses and PI in umbilical artery, ductus venosus and middle cerebral artery. We demonstrated that monochorionic twins with weight difference less than 15% and normal amniotic fluid can be managed in centers of primary level of care, whereas fetuses with weight difference more than 15% and olygohydramnion/polyhydramnion sequence need to be transfered to the special centers of secondary level of care. Appearance of reversed blood flow in umbilican artery of the donor twin or ductus venosus of the recipient twin is indicative for in utero laser coagulation of placental anastomoses.
Ekaterina S. Nekrasova
Author for correspondence.
katnekrasova@hotmail.com
Centre for fetal medicine MEDIKA
Russian Federation, Saint Petersburg
Candidate of Medical Sciences, Chief Physician
Benirschke K, Kim CK. Multiple pregnancy. N Eng J Med. 1973;288:1276-84.
Wee LY, Taylor M, Watkins N, et al. Characterisation of deep arteriovenous anastomoses within monochorionic placentae by vascular casting. Placenta. 2005;26:19-24. doi: 10.1016/j.placenta.2004.04.007.
Ville Y. Twin-to-twin transfusion syndrome: time to forget the Quintero staging system? Ultrasound Obstet Gynecol. 2007;30:924-7. doi: 10.1002/uog.5221.
Quintero RA, Morales WJ, Allen MH, et al. Staging of twin-twin transfusion syndrome. J Perinatol. 1999;19:550-5.
Taylor MJO, Govender L, et al. Validation of the Quintero staging system for twin-twin transfusion syndrome. Obstet Gynecol. 2002;100:1257-65.
Barrea C, Alkazaleh F, Ryan С, et al. Prenatal cardiovascular manifestations in the twin-to-twin transfusion syndrome recipients and the impact of therapeutic amnioreduction. Am J Obstet Gynecol. 2005;192:892-902. doi: 10.1016/j.ajog.2004.09.015.
Supplementary files
There are no supplementary files to display.
Views
Abstract - 72
PDF (Russian) - 101