KARIOMETRICHESKIE INDICATORS OF ACTIVITY IN HUMAN THYROID FOLLICLES IN THE ASPECT OF AGE AND GENDER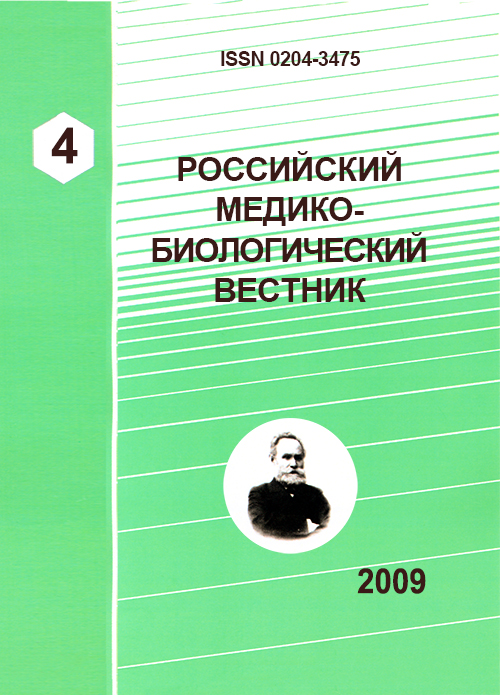 Abstract
The article shows kariometrii thyrocytes thyroid gland and its results are compared with the nature of the activity of follicles according to gender and age. Found that the average volume of nuclei of thyrocytes in the follicles "active" type with opposite-sex persons than the corresponding figures for follicular "inactive". At the same time and both men and women the maximum mean volume of nuclei is reached in the period 50 - 54 years.
Keywords
References
Алов И.А., Брауде А.И., Аспиз М.Е.Основы функциональной морфологии клетки. -М., Медицина, 1966. -415 с.
Березин В. А., Гербильский Л. В., Корниловская И. Н. Тиреоглобулин //Проблемы эндокринологии. -1993. -№ 4. -с. 54-59.
Бомаш Н.Ю. Морфологическая диагностика заболеваний щитовидной железы. -М., Медицина, 1981. -175 с.
Быков В.Л. Гетерогенность щитовидной железы млекопитающих и возрастные изменения органа //Арх. анат. гистол. эмбриол. -1979. -№ 10. -с. 61-71.
Быков В.Л. Гистофизиология щитовидной железы в постнатальном онтогенезе //Арх. анат. гистол. эмбриол. -1979. -№ 3. -с 80-95.
Воронина Р.К., Колобаев А.В., Буржинский А.В., Куганова О.С. Возрастные особенности физико-химических свойств коллоида щитовидной железы, ассоциированные с полом //Актуальные проблемы клинической и экспериментальной патологии. - Рязань, 2008. - с. 51-56.
Спиридонов А.П.., Алексеев Ю.Д. Судебно-медицинская оценка возрастных изменений щитовидной железы //Суд. мед. экспертиза. -1998. -№ 1. -с. 6-8.
К.Ташкэ Введение в количественную цито-гистологическую морфологию: Пер. с румын. -Бухарест, 1980. -192 с.
Ухов Ю.И., Колобаев А.В., Воронина Р.К. Асимметрия возрастной динамики тканевых компонентов щитовидной железы, ассоциированная с полом //Вопросы морфологии XXI века: Сб. науч. тр. посвящ. 100-летию кафедры биологии СПб ГМА им. И.И.Мечникова. - СПб, 2008. - т. 1. -с. 290-294
А.Хем, Д.Кормак Гистология: Пер. с англ. -М., Мир, 1983. -т 5. -с 53-77; 77-91.
Я.У.Хесин Размеры ядер и функциональное состояние клеток. -М., Медицина, 1968. -423 с.
Хмельницкий О.К., Третьякова М.С. Щитовидная железа, как объект морфометрического исследования //Архив патологии -1998. -№ 4.
Хэбинер Дж.Ф. Биосинтез и секреция гормонов //В кн: Эндокринология и метаболизм. Пер. с англ. -М., Медицина, 1985. -с 60-113.
В.Д.Цветков Сердце, золотое сечение и симметрия. -М., 1999. -151 с.
Щитовидная железа. Фундаментальные аспекты. /Под ред.: А.И.Кубарко, S.Yamashita -Минск - Нагасаки, Минский мед. ин-т., Мед. школа Университета г. Нагасаки, 1998. -356 c.