THE CELLULAR STRUCTURE CHARACTERISTIC OF MEDIAL NUCLEUSES IN MAMILLAR BODIES OF THEINTERMEDIATE BRAIN AT MEN AND WOMEN IN AGE OF 50-60 YEARS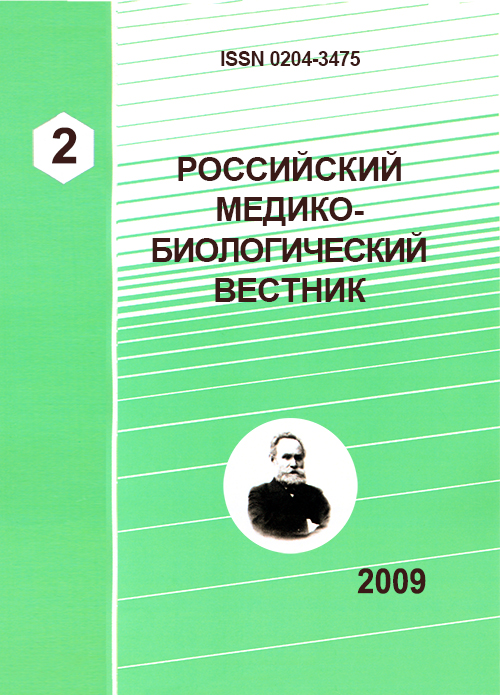 Authors: Pavlov AV 1
Affiliations:

Issue: Vol 17, No 2 (2009)
Pages: 16-20
Section: Articles
Abstract
In article the morphological description of cellular structure of a medial congestion in the mamillar bodies of an intermediate brain at men and women in age group of 50-60 years is given.
Keywords
References
Гуров Д.Ю Радиальная морфометрия нейронов в оценке конституционально обусловленных особенностей структур промежуточного мозга./ Д.Ю.Гуров, В.Б.Писарев, В.В.Новочадов // Вестн. ВолГМУ - 2005. - N1. - С. 6-8.
Потанин М.Б. Особенности нейро-глиальных взаимоотношений в гипоталамической области животных с конституциональной склонностью к потреблению этанола / М.Б.Потанин // Нейронауки: теоретические и клинические аспекты (Украина). - 2005. - N1. - С. 43-44.
Современные подходы к оценке морфологии промежуточного мозга при конституциональной предрасположенности к алкогольной зависимости / В.Б.Писарев [и др.] // Морф. ведомости. - 2004. - N3-4. - С. 23-24.
Хомутов А.Е. Анатомия центральной нервной системы / А.Е.Хомутов, С.Н. Кульба.- 2-е изд.-Ростов н/Д: Феникс, 2006.-320 с.