VALUE INTERCELLULAR interactions, extracellular matrix and vascular FACTOR IN THE DEVELOPMENT OF BREAST TUMORS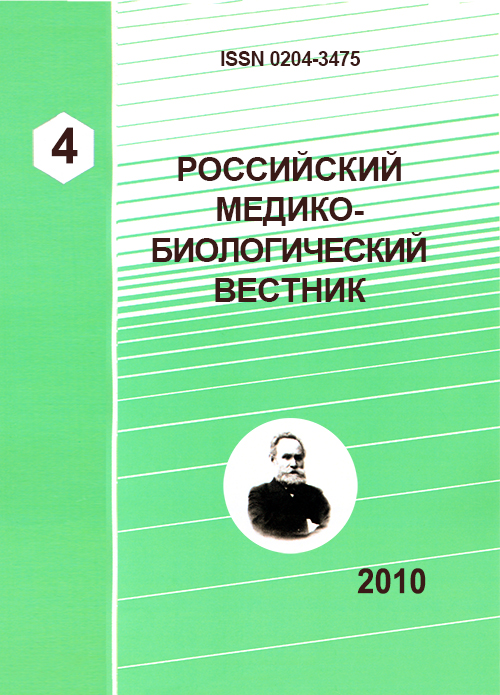 Abstract
In the article on the basis of a literature review addresses current understanding of the genesis and the role of cell-cell interactions, vascular factors and extracellular matrix in a multi-step process of tumor progression. Tumor progression is characterized by increased genetic damage to cells and the growth of heterogeneity of genotypic basis, increased capacity for invasion, angiogenesis, metastasis. The importance of vascular factors in the development of breast cancer.
References
Буланов М.Н. Значение трансвагинальной цветовой допплерографии в сочетании с импульсной допплерометрией для дифференциальной диагностики доброкачественных и злокачественных новообразований яичников: Автореф. дис. ... канд.мед.наук. М 1999; 23.
Жорданиа К.И. Современная онкология 2000; 2: 2: 30-100.
Избранные лекции по клинической онкологии. Под ред. В.И. Чиссова, С.Л. Дарьяловой. М 2000; 736.
Кветной И.М. Показатели экспрессии некоторых факторов, вовлечённых в механизмы апоптоза при дисгормональных дисплазиях молочной железы / Кветной И.М., Коган И.Ю., Полянин А.А., Костючек И.Н. // I Международная конференция «Молекулярная медицина и биобезопасность»: сб. тезисов. - М., 2004. - С.90-91.
Коган И.Ю. Активность пролиферации и апоптоза эпителия молочной железы при различных формах фиброзно-кистозной болезни / Коган И.Ю. // Ж. акуш. и жен. болезн. - 2007. - Том. LVI, спец.вып. - С. 157.
Коган И.Ю. Допплерометрическая оценка внутриопухолевого кровотока при фиброаденоме молочной железы / Коган И.Ю., Полянин А.А., Мясникова М.О., Белоусова О.Н. //Материалы Всероссийского научного форума «Достижения и перспективы современной лучевой диагностики». - М.: Меди Экспо, 2004. - С.102.
Коган И.Ю. Молекулярно-биологические характеристики эпителия молочной железы при фиброзно-кистозной болезни / Коган И.Ю. //Материалы ІV Международной ежегодной конференции «Проблемы диагностики и лечения рака молочной железы». - СПб, 2007.
Коган И.Ю. Оценка васкуляризации молочных желез при различных формах мастопатии / Коган И.Ю., Белоусова О.Н., Асеева И.В. // Бюллетень Сибирской медицины. - 2005. - Том 4. , прилож. 1. - С. 175
Коган И.Ю. Применение импульсной и энергетической допплерометрии кровотока в диагностике заболеваний молочной железы / Коган И.Ю. // Региональное кровообращение и микроциркуляция. - 2006. - Т.5, №2. - С.21-26.
Коган И.Ю. Функциональная оценка внутриопухолевого кровотока при фиброаденоме молочной железы / Коган И.Ю., Полянин А.А., Мясникова М.О., Белоусова О.Н. // Учёные записки СПбГМУ им.акад. И.П.Павлова. - 2004. - Т. XI, №3. - С.27-30.
Коган И.Ю. Васкуляризация паренхимы молочных желёз у женщин с фиброзно-кистозной болезнью /Коган И.Ю., Мясникова М.О. // Ж. акуш. и жен. болезн. - 2007. - Том. LVI, спец.вып. - С.159.
Крючков А.Н. Роль структурных изменений фибробластов в патогенезе фиброза в ткани рака молочной железы / А.Н. Крючков // Тезисы конференции «Новые методы и разработки в онкоморфологии». Под ред. Н.Н. Петровичева, Е.А. Мороз, Д.Л. Ротина.- М., 2005.- С. 93-95.
Крючков А.Н. Клинико-морфологическое значение спонтанных некрозов в раке молочной железы / А.Н. Крючков // Вопросы онкологии.- 2007.- Т. 53.- № 2.- С. 229-234.
Крючков А.Н. Неоангиогенез и плотность сети микрососудов в раке молочной железы / А.Н. Крючков, Г.Г. Фрейнд // Архив патологии.- 2008.- Том 70.- № 1.- С. 62-65.
Пальцев М.А., Иванов А.А. Межклеточные взаимодействия. М: Медицина 1995; 224.
Al-Hajj M, Wicha MS, Benito-Hernandez A, Morrison SJ, Clarke MF. Prospective identification of tumorigenic breast cancer cells. Proc Natl Acad Sci U S A 2003;100:3983-3988. [Erratum, Proc Natl Acad Sci U S A 2003;100:6890.
Collaborative Group on Hormonal Factors in Breast Cancer, Breast cancer and hormone replacement therapy: collaborative reanalysis of data from 51 epidemiological studies of 52 705 women with breast cancer and 108 411 women without breast cancer, Lancet 350 (2007) 1047-1059.
E.S. O'Meara, M.A. Rossing, J.R. Daling, J.G. Elmore, WE. Barlow, N.S. Weiss, Hormone replacement therapy after a diagnosis of breast cancer in relation to recurrence and mortality, J. Natl. Cancer Inst. 93 (2001) 177-178.
A.K. Salih, I.S. Fentiman, Breast cancer prevention: present and future, Cancer Treat Rev. 27 (2001) 261-273.
K. Nanda, L.A. Bastian, K. Schulz, Hormone replacement therapy and the risk of death from breast cancer: a systemic review, Am. J. Obstet. Gynecol. 186 (2002) 325-334.
J.S. Foster, D.C. Henley, S. Ahamed, J. Wimalasena, Estrogens and cell-cycle regulation in breast cancer, Trends Endocrinol. Metabol. 12 (2001) 320-327.
Vogel CL, Cobleigh MA, Tripathy D et al. Efficacy and safety of trastuzumab as a single agent in first-line treatment of HER2-overexpressing metastatic breast cancer. J Clin Oncol 2002;20:719-726.
Slamon DJ, Leyland-Jones B, Shak S et al. Concurrent administration of anti-HER2 monoclonal antibody and first-line chemotherapy for HER2-overexpressing metastatic breast cancer: a phase HI, multinational, randomized controlled trial. N Engl J Med 2001 ;344:783-792.
Gasparini G, Toi M, Gion M et al. Prognostic significance of vascular endothelial growth factor protein in node-negative breast carcinoma. J Natl Cancer Inst 1997;89:139-147.
Relf M, LeJeune S, Scott PA et al. Expression of the angio-genic factors vascular endothelial cell growth factor, acidic and basic fibroblast growth factor, tumor growth factor beta-1, platelet-derived endothelial cell growth factor, placenta growth factor, and pleiotrophin in human primary breast cancer and its relation to angiogenesis. Cancer Res 2007;57:963-969.
Hyder SM, Murthy L, Stancel GM. Progestin regulation of vascular endothelial growth factor in human breast cancer cells. Cancer Res 2008;58:392-395.
Weidner N, Semple JP, Welch WR et al. Tumor angiogenesis and metastasisСcorrelation in invasive breast carcinoma. NEnglJMed 1991 ;324:1-8.
Sweeney CJ, Miller KD, Sissons SE et al. The antiangiogenic property of docetaxel is synergistic with a recombinant humanized monoclonal antibody against vascular endothelial growth factor or 2-methoxyestradiol but antagonized by endothelial growth factors. Cancer Res 2001 ;61:3369-3372.
Sledge GW, Cobleigh MA, Langmuir VK et al. 32 A phase Џ dose-escalation trial of bevacizumab (AvastinЄ) in previously treated metastatic breast cancer. J Clin Oncol 2003 (in press).
Burstein ˜, Parker LM, Savoie J et al. Phase Џ trial of the anti-VEGF antibody bevacizumab in combination with vinorelbine for refractory advanced breast cancer. Breast Cancer Res Treat 2002;76(suppll):S115.