N.I. Pirogov - DOCTOR, CITIZEN, THE GREAT SON OF RUSSIA(To 200 anniversary of the birth of N.I. Pirogov)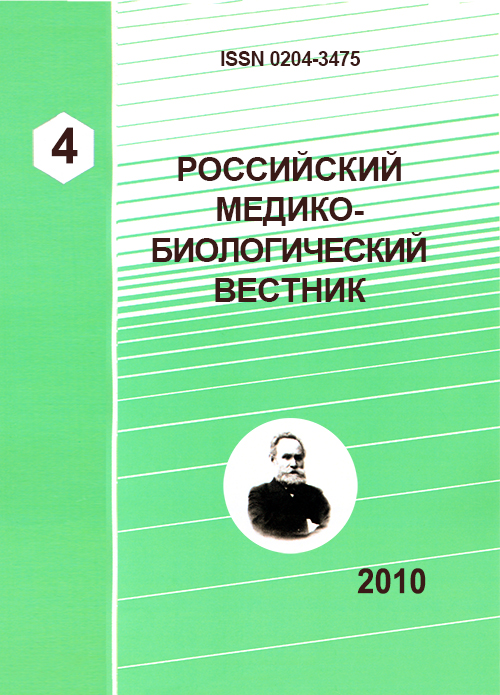 Authors: Mnikhovich M.V. 1, Kakturskiy LV 1, Vernigorodskiy SV 1, Kaminskaya NA 1, Miglyas VG 1, Mnikhovich MV 1, Kakturskiy LV 1, Vernigorodsky SV 1, Kaminska NA 1, Miglyas VG 1
Affiliations:

Issue: Vol 18, No 4 (2010)
Pages: 174-181
Section: Articles
Abstract
The article analyzes the work N.I. Pirogov, which formed the foundation for the development of modern trends of Medicine. Works N.I. Pirogov covered a wide range of critical issues of clinical and theoretical medicine, pathology, pathological anatomy, such as clinical and biological analysis of inflammation, suppuration, bone pathology, infectious diseases and their control. Much attention N.I. Pirogov on experimental studies on the development of collateral circulation, pathology, wound healing, shock, on plastic surgery. N.I. Pirogov - creator of the topographic (Surgical), anatomy, health organizer, scholar-thinker, and teacher.
Keywords
References
Бакулев А. Н. Значение Н. И. Пирогова, его учеников и последователей в истории отечественной и мировой хирургии. Пироговские чтения, 1956, Медгиз, 1957, стр. 9-25.
Вишневский А.А. Термические ожоги - важнейшая проблема военно-полевой хирургии. Пироговские чтения, 1965, Медицина, 1966, 10-30.
Завалишин Н. И. Н. И. Пирогов и его принципы организации медицинской помощи на войне. Пироговские чтения, 1958, Медгиз, 1959, 7-25.
Каиров И. А. Педагогическая деятельность Н. И. Пирогова. Пироговские чтения, 1960, Медгиз, 1961, 36-47.
Кульчицкий К. И., Кланца П. А., Собчук Г. С. Н. И. Пирогов в усадьбе Вишня. "Здоровя", Киев, 1981.
Куприянов В. В. Научное наследие Н. И. Пирогова в анатомии и его значение для медицины. Архив АГЭ, 1960, № 10, стр. 3-13.
Куприянов П. А. Н. И. Пирогов как хирург и анатом. Пироговские чтения, 1960, Медгиз, 1961, 8-24.
Лопухин Ю. М. Лекции по топографической анатомии и оперативной хирургии, М., 1994, стр. 14.
Оппель В. А. История русской хирургии. Критический очерк. Вологда, 1923, стр. 409.
Петровский Б.П. Николай Иванович Пирогов // Труды пироговскиих чтений, Медицина 1986, стр.7-16
Пирогов Н. И. Является ли перевязка брюшной аорты при аневризме паховой области легко выполнимым и безопасным вмешательством? (Диссертация). Государственное издательство медицинской литературы, 1951.
Пирогов Н. И. Севастопольские письма. Собрание сочинений, VI. часть II, Москва. 1961.
Пирогов Н И. О перевязке Ахиллова сочинений, том I, стр. 113-161, М., 1957.
Пирогов Н.И. Вопросы жизни. Дневник старого врача, писанный исключительно для самого себя, но не без задней мысли, что может быть когда-нибудь прочтет и кто другой (5 ноября 1879 - 22 октября 1881) / Пирогов Н.И. - .СПб: ВМедА, 2008. - 392 с.
Пирогов Н. И. Об анатомическом институте. - В кн.: Пирогов Н. И. Севастопольские письма и воспоминания. М. 1950, с. 476.
Пирогов Н. И. Доклады губернской земской управы полтавскому полтавскому земскому собранию 6-го очередного созыва в октябре 1870 г. - Полтава, 1870, с. 293.
Радушкевич В. П. Значение идей и трудов Н. И. Пирогова для развития советской хирургии. Пироговские чтения, 1967, Медицина 1969, стр.7-38.
Тарасов Л. А. Хирург и анатом, педагог и патриот (Н. И. Пирогов). Барнаул, 1981.
Разумовский В.И. Николай Иванович Пирогов. Его жизнь, научно-общественная деятельность и мировоззрение (публичная лекция, читанная в Казани 29 ноября 1906 г.). - СПб., 1907. - 29 с.
Шевченко Ю.Л. От «ледяной анатомии» до компьютерной томографии (актовая речь 18 декабря 2009 г. к 150-летию со дня издания Н.И. Пироговым «Иллюстрированной топографической анатомии распилов, произведенных в трех измерениях через замороженное человеческое тело» (1851-1859). - М.: РАЕН, 2009. - 20 с.