Scaphocapitate fracture syndrome in a child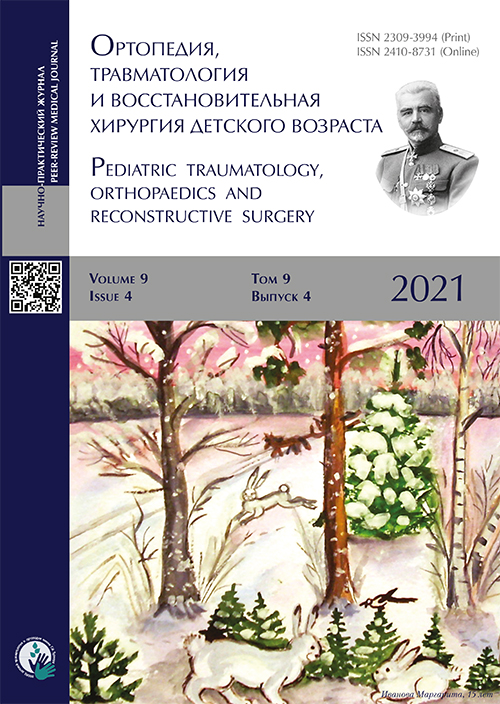 Cite item
Full Text

Open Access
Access granted

Subscription or Fee Access
Abstract
BACKGROUND: Scaphocapitate fracture syndrome involves transverse fracture of the scaphoid and capitate, with rotation of 90° or 180° of the proximal fragment of the capitate, commonly associated with other carpal lesions. It is a rare wrist injury, usually occurs in young men and is exceptional in children. The exact mechanism remains controversial. The injury is often misdiagnosed as a simple scaphoid fracture and there has been a controversy about the treatment of the capitate fracture in this syndrome.
CLINICAL CASE: The authors report a rare case of a scaphocapitate syndrome in a 15-year-old boy. Early open reduction of both fractures was performed. It was obtained a good mobility, with a normal grip strength and the radiographs showed union of both bones without avascular necrosis.
DISCUSSION: Most authors agree that regardless of the radiographic appearance of the injury, open reduction and internal fixation is the treatment of choice. The dorsal approach is the most used. The capitate fragment is usually devoid of any soft tissues and is reduced relatively easy with manual pressure, by applying traction to the hand. Reduction and fixation of the capitate must precede that of the scaphoid. K-wires or headless screws may be placed from the proximal to the distal side for the fixation of the scaphoid and capitate. The evolution is marked by the risk of occurrence of head capitate avascular necrosis
CONCLUSIONS: This case report illustrates that the scaphocapitate syndrome can occur in children and is important an early diagnosis to initiate timely treatment. Our patient was successfully treated with open reduction and fixation using K-wires.
Keywords
Full Text

About the authors
Hospital de Cascais
Email: patriciawircker@gmail.com
ORCID iD: 0000-0002-2731-5868

Trauma and Orthopedic Surgery Resident
Portugal, Av. Brigadeiro Victor Novais Gonçalves, 2755-009 Alcabideche, Lisbon
Hospital de Cascais
Email: alvesdasilva.t@gmail.com

Trauma and Orthopedic Surgeon
Portugal, Av. Brigadeiro Victor Novais Gonçalves, 2755-009 Alcabideche, Lisbon
Hospital de Cascais
Author for correspondence.
Email: rafaelrmdias@gmail.com

Trauma and Orthopedic Surgery Resident
Portugal, Av. Brigadeiro Victor Novais Gonçalves, 2755-009 Alcabideche, Lisbon
References
Robbins MM, Nemade AB, Chen TB, Epstein RE. Scapho-capitate syndrome variant: 180-degree rotation of the proximal capitate fragment without identifiable scaphoid fracture. Radiol Case Reports. 2008;3(3):193. doi: 10.2484/rcr.v3i3.193
Fenton RL. The naviculo-capitate fracture syndrome. J Bone Jt Surg. 1956;38(3):681–684.
Hamdi MF. The scaphocapitate fracture syndrome: Report of a case and a review of the literature. Musculoskelet Surg. 2012;96(3):223–226. doi: 10.1007/s12306-011-0108-9
Shaikh AA, Saeed G. Fenton syndrome in an adolescent. J Coll Physicians Surg Pakistan. 2007;17(1):55–56. doi: 10.1053/jhsu.2000.18494
Sawant M, Miller J. Scaphocapitate syndrome in an adolescent. J Hand Surg Am. 2000;25:1096–1099. doi: 10.1053/jhsu.2000.18494
Stein F, Siegel M. Naviculocapitate fracture syndrome. A case report: new thoughts on the mechanism of injury. J Bone Joint Surg Am. 1969;51(2):391–395.
Scaphocapitate fracture-dislocation Chapter 13. In: Articular injury of the wrist. Ed. by M. Garcia-Elias , C.L. Mathoulin Stuttgart, New York, Delhi, Rio: Thieme Verlagsgruppe; 2014.
Kim YS, Lee HM, Kim JP. The scaphocapitate fracture syndrome: a case report and literature analysis. Eur J Orthop Surg Traumatol. 2013;23(S2):207–212. doi: 10.1007/s00590-013-1182-5
Ameziane L, Marzouki A, Souhail SM, et al. Le syndrome de Fenton ou fracture scaphocapitale (à propos d'un cas). Chir Main. 2003;22(6):318–320. (In French). doi: 10.1016/j.main.2003.09.014
Supplementary files
Supplementary Files
Action