Open Access
Access granted

Subscription or Fee Access
Vol 25, No 3 (2021)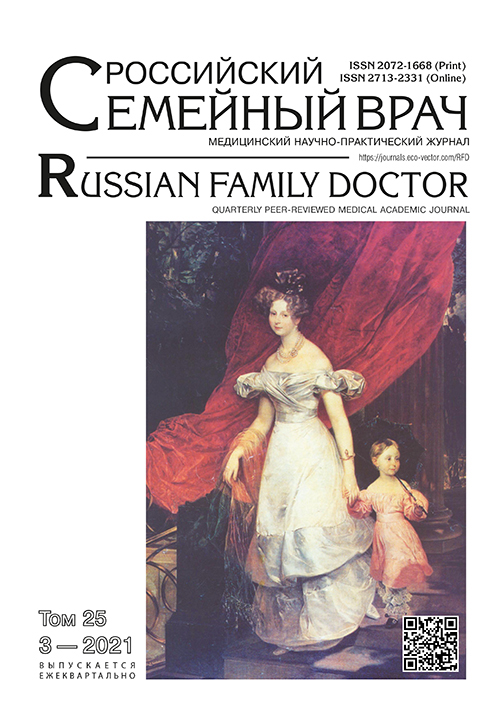 Lectures
Abstract
The article is a lecture on the history of development and the current state of geriatric medicine. The purpose of the lecture is to consider the stages of the formation of geriatrics as a scientific and clinical discipline and to substantiate its significance. The lecture defines concepts such as holistic approach, complex geriatric assessment, geriatric syndrome. The role of the founders of international and domestic geriatrics, such as M. Warren, B. Isaac, D. Sheldon, I.I. Mechnikov, V.N. Anisimov, E.S. Pushkova, is described. Various directions of geriatric medicine are considered and the necessity of their study is justified. The results of scientific research in geriatrics are analyzed. The basic principles of the ortho-geriatric approach, which becomes crucial for the successful treatment of elderly patients with fractures, as well as the features of geriatric rehabilitation, geriatric cardiology, are described. In conclusion, the author offers several models for the development of geriatric medicine.
Russian Family Doctor. 2021;25(3):7-16
7-16
Review
Abstract
The review presents the results of scientific studies devoted to the features of the course and outcomes of a new coronavirus infection COVID-19 in patients with immuno-inflammatory rheumatic diseases (IIRD). It was noted that the risk of developing COVID-19 for patients with IVR, apparently, is similar to the population or slightly increased and mostly depends on the presence of established risk factors for its severe course (old age, obesity, diabetes mellitus, cardiovascular diseases). Patients receiving long-term immunosuppressive therapy and high doses of glucocorticoids may have a long period of positive viral replication and isolation of a viable virus, which requires dynamic monitoring of such patients and correction of anti-rheumatic therapy. The issues of post-COVID-19 joint syndrome, which can occur within the framework of post-viral arthritis or be the debut of an immuno-inflammatory rheumatic disease, are highlighted. The draft recommendations of the All-Russian Public Organization "Association of Rheumatologists of Russia" on the management and temporary recommendations of V.A. Nasonova Research Institute of Rheumatology for vaccination of patients with rheumatic diseases in the conditions of the COVID-19 pandemic are presented.
Russian Family Doctor. 2021;25(3):17-26
17-26
Abstract
BACKGROUND: Falls are one of the most common syndromes in old age. An estimated 646,000 deaths from falls occur each year worldwide. Moreover, most fatal falls occur in people over 65 years of age. Most falls are the result of the interaction of several factors.
AIMS: To examine the long-term effectiveness of multifactorial interventions in preventing falls in elderly and senile patients.
MATERIALS AND METHODS: A sample of patients territorially attached to the Family Medicine Center of the North-Western State Medical University named after I.I. Mechnikov was established four years ago. Individual fall prevention programs were developed for all study participants (n = 260) because they had different falls risk factors. Patient follow-up was continued for 12 months. The results of the multifactorial intervention were evaluated after 12 months and after 3 years, 2 times in total, the last study in a random subsample of patients (n = 84). Aging asthenia screening, questionnaires, assessment of emotional status, and presence of sleep disturbances were performed to assess the risk of falls. The effectiveness of multifactorial interventions was assessed based on repeated assessment of risk factors for falls.
RESULTS: Participants with a history of falls were significantly more likely to have symptoms of depression, anxiety, symptoms of frailty, visual and hearing impairment (p < 0.05). On average, each participant in the group with falls had 6.1 ± 2.1 risk factors for falls and 3.8 ± 2.3 in the group without falls (p = 0.000). During the follow-up period after the interventions, the incidence of falls decreased 9-fold after one year (from 28.5% to 3.1%) and then increased to 23.8%. All patients who fell after the multifactorial intervention had a history of cognitive impairment and falls. In addition, in the group of patients with falls, fall risk factors such as low levels of physical activity, hearing impairment, and the presence of a traumatic environment at home were not eliminated. As a result of the interventions, fear of falls disappeared in 9 patients, 95% CI (2.35-65.89), p = 0.039.
CONCLUSIONS: The study demonstrated a decrease in the effectiveness of multifactorial interventions to prevent falls at three years. A less persistent effect was seen in patients with a history of falls. A history of falls, symptoms of frailty, complaints of fear of falls, sleep disturbances, and anxiety symptoms were factors that increased the risk of falls. Individualized fall prevention programs resulted in decreased fear of falls.
Russian Family Doctor. 2021;25(3):27-34
27-34
Case report
Abstract
Coronavirus infection, according to modern data, poses a threat not only to the respiratory system, in more than 15% of patients it can lead to cardiovascular complications, including in young and middle-aged people. COVID-19 is probably the trigger of a detailed clinical picture of chronic diseases occurring in a latent form. The article considers the case of sinus node dysfunction and polyneuropathy in a young patient after coronavirus infection against the background of concomitant diseases such as Sjogren's disease and Thompson's myotonia. To observe the dynamics of the three diseases, the timely organization of a multidisciplinary approach is important. It is necessary to consider all three diseases in the paradigm of the main and concomitant in order to timely and adequate therapy. Further study of the clinical features, therapeutic approaches and complications in patients with COVID-19 is required.
Russian Family Doctor. 2021;25(3):35-40
35-40
Abstract
BACKGROUND: About 70% of TB dispensary patients have chronic somatic diseases which not only prevent effective treatment of TB but also take progressive course themselves.
AIMS: To timely detect and treat acute and chronic somatic disease combined with TB.
MATERIALS AND METHODS: since 2020 the algorithm of patient complex investigation by specialists of therapeutic profile was developed in the Tuberculosis Dispensary No. 5, among them the general practitioner was the coordinator of the patient's medical route. This became especially relevant during the COVID-19 pandemic.
RESULTS: In accordance with the developed algorithms of diagnostic search the patient was comprehensively examined. There were no signs of tuberculosis were in him, however the general practitioner involving to specialists team could diagnose signs of complex cardiac arrhythmia the probable cause which was a new coronavirus infection that he had had six weeks before.
CONCLUSIONS: The organization of a new form of medical service for phthisiatric patients allowed general practitioner to reveal serious cardiac pathology directly at the TB dispensary, to refer the patient for consultation to the cardiologist-arrhythmologist, to follow the patient and perform recommended cardiologic treatment simultaneously with measures or medical supervision over persons contacting with tuberculosis.
Russian Family Doctor. 2021;25(3):41-49
41-49