Pregnancy outcomes features in patients with different severity of asthma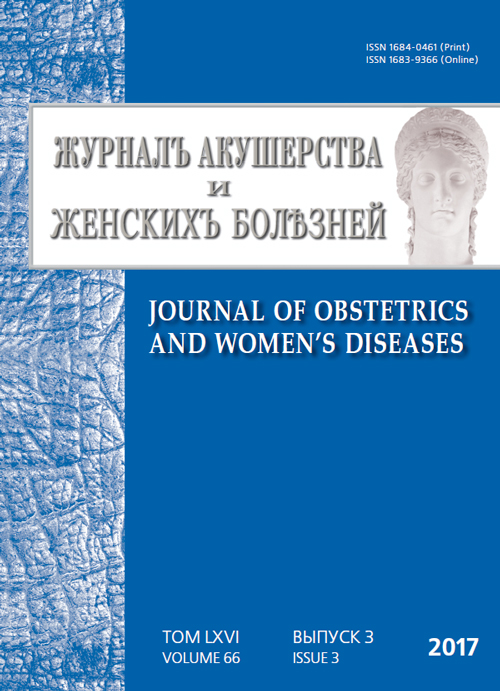 Authors: Lavrova O.V., Shapovalova E.A., Dymarskaya Y.R.
Issue: Vol 66, No 3 (2017)
Pages: 75-81
Abstract
Purpose of the study. The study of the peculiarities and outcomes of pregnancy and neonatal status in patients with bronchial asthma (BA).
Materials and methods. Studied the course of pregnancy and delivery 1800 women suffering from BA. Patients were conducted and surveyed throughout the period of gestation simultaneously with pulmonologist and obstetrician; thus it was formed a complex of treatment and preventive measures, made recommendations for the primary prevention of allergic diseases of unborn child.
Results. The increase in pregnancy complications in patients with asthma is directly related to the lack of control of the disease, especially in the first trimester of gestation. The lack of ade quate treatment of asthma increases the risk of different pregnancy complications, which has a direct effect on the health status of newborns.
Conclusion. Even severe asthma, is not a contraindication to pregnancy. The main condition for the safety pregnancy and delivery is the timely appointment of a set of preventive and therapeutic measures for control of the disease that not only improve the quality of life of women during gestation, but also improve health status of newborns.
Olga V. Lavrova
Author for correspondence.
loverova@bk.ru
I.P. Pavlov First St Petersburg State Medical University
Russian Federation, 6/9, Lva Tolstogo street, St. Petersburg, 197089
leading researcher of the Laboratory of genetic processes of lung diseases, Research Institute of Pulmonology
Elena A. Shapovalova
e.shapovalova@mail.ru
FSBSI "The Research Institute of Obstetrics, Gynecology and Reproductology named after D.O. Ott"
Russian Federation, 3, Mendeleevskaya line, Saint Petersburg, 199034
senior researcher at the Department of Pathology of pregnancy
Yulia R Dymarskaya
julia_dym@mail.ru
Nord-Western State Medical University named after I.I. Mechnicov
Russian Federation, 41, Kirochnaya street, Saint-Petersburg, 191015
assistant professor of the Department of obstetrics and gynecology
Cуханова Л.П. Структура и уровень перинатальной патологии в современной России // Медико-психологические аспекты современной пренатальной и перинатальной психологии, психотерапии и перинатологии. – М., 2005. – C. 6–8. [Cukhanova LP. Struktura i uroven' perinatal'noy patologii v sovremennoy Rossii. [Mediko-psikhologicheskie aspekty sovremennoy prenatal'noy i perinatal'noy psikhologii, psikhoterapii i perinatologii. Moscow; 2005. P. 6-8. (In Russ.)]
Global Initiative for Asthma Pocket guide for asthma management and prevention (2012). Available at: www.ginasthma.org/local/uploads/files/GINA_Pocket2013_May15.pdf.
Greally M, Jagoe WS, Greally J. The genetics of asthma. Ir Med J. 1982;75(11):403-5.
Jenkins MA, Hopper JL, Bowes G, et al. Factors in childhood as predictors of asthma in adult life. BMJ. 1994;309(6947):90-3. doi: 10.1136/bmj.309.6947.90.
Jenkins MA, Hopper JL, Flander LB, et al. The associations between childhood asthma and atopy, and parental asthma, hay fever and smoking. Paediatr Perinat Epidemiol. 1993;7(1):67-76. doi: 10.1111/j.1365-3016.1993.tb00602.x.
Laitinen T, Rasanen M, Kaprio J, et al. Importance of genetic factors in adolescent asthma: a population-based twin-family study. Am J Respir Crit Care Med. 1998;157(4,pt.1):1073-8. doi: 10.1164/ajrccm.157.4.9704041.
Murphy VE, Gibson PG, Giles WB, et al. Maternal asthma is associated with reduced female fetal growth. Am J Respir Crit Care Med. 2003;168(11):1317-1323. doi: 10.1164/rccm.200303-374OC.
Schatz M, Dombrowski MP, Wise R, et al. The relationship of asthma medication use to perinatal outcomes. J Allergy Clin Immunol. 2004;113(6):1040-5. doi.org/10.1016/j.jaci.2004.03.017.
Schatz M, Zeiger RS. Improving asthma outcomes in large populations. J Allergy Clin Immunol. 2011;128(2): 273-77. doi: 10.1016/j.jaci.2011.03.027.
Sibbald B. Genetics of asthma and atopy: an overview. Clin Exp Allergy. 1991;21(1):178-81. doi: 10.1111/j.1365-2222.1991.tb01724.x.
Supplementary files
There are no supplementary files to display.
Views
Abstract - 80
PDF (Russian) - 74