The experience of vaginal birth after cesarean delivery in the Maternity home No 13 of Saint Petersburg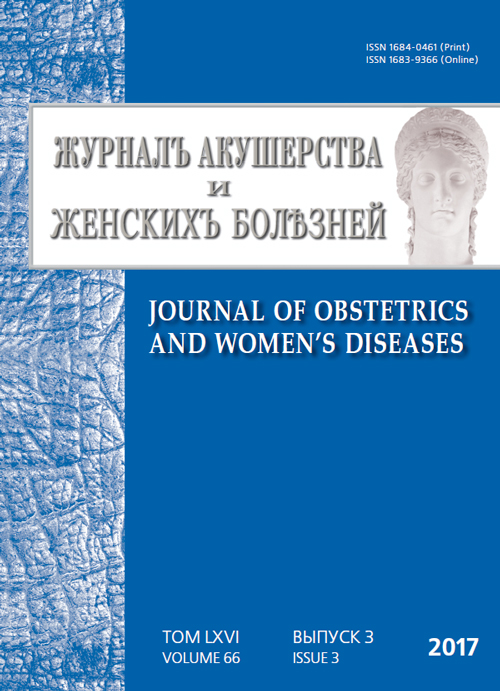 Authors: Leonova M.D., Frederiks E.V., Dymarskaya Y.R.
Issue: Vol 66, No 3 (2017)
Pages: 82-88
Abstract
Introduction. In developed countries the attempts of vaginal delivery after cesarian section are not an unjustified risk, but considered the most favorable outcome. In Russia, unfortunately, obstetricians do not risk offering a vaginal birth to pregnant women after cesarian section, and outpatient doctors often adjust the abdominal delivery from early stages of pregnancy.
The aim of the study: to identify specifics of labor and outcome of delivery for vaginal birth after previous cesarean and determine possible ways to reduce the frequency of abdominal delivery in these patients.
Materials and methods. We conducted a retrospective analysis of 337 histories of delivery of patients after previous cesarean in 2016 in "Maternity hospital No 13". The main group consisted of 189 patients to whom vaginal birth was planned, of which 82 patients completed the birth in accordance with the previous plan (subgroup 1) and 107 women completed cesarean section (group 2). The control group consisted of 148 women who had cesarean delivery without trial vaginal delivery.
Results. Among the indications for the first cesarean section in the subgroup 1 were: breech malpresentation – 19.7%, fetal hypoxia – 22.4% and abnormalities of the uterine contractile activity – 13.2%. The most common indications for a second operation in the 2nd subgroup were: premature rupture of amniotic fluid and absence of spontaneous labor (28%), lack of cervical muturity (21.5%), abnormalities of the uterine contractile activity (18.7%), fetal hypoxia (14%), abnormal preliminary period (13.1%), placental abruption (1.9%), absence of the effect of induction (amniotomy) (1.9%), cepalopelvic disproportion (0.9%). Thus, the percentage of success of vaginal delivery was 43.3%. At the same time, the fact of the presence of uterine contractions during the previous delivery did not affect the mode of delivery in this pregnancy. The volume of blood loss in cases of vaginal delivery was significantly less than in the subgroups of patients delivered by cesarean section.
Conclusions. The analysis may lead to reviewing indications and terma for the birth after cesarean. Reserve groups have been defined for high chances of vaginal delivery: prolongation of pregnancy up to 41 weeks, induction and augmentation of labor, conservative management of labor with presumed macrosomia, that may help reduce the frequency of repeated abdominal delivery, development of intra- and postoperative complications.
Keywords
Margarita D. Leonova
Author for correspondence.
margarita_@bk.ru
Saint Petersburg State Budgetary Healthcare Institution "Maternity hospital No 13"
Russian Federation, Saint Petersburg
obstetrician-gynecologist, head of the maternity department
Elena V. Frederiks
evfrederiks@gmail.com
Saint Petersburg State Budgetary Healthcare Institution "Maternity hospital No 13"
Russian Federation, Saint Petersburg
chief physician
Yulia R. Dymarskaya
julia_dym@mail.ru
North-Western State Medical University named after I.I. Mechnikov
Russian Federation, 41, Kirochnaya street, Saint-Petersburg, 191015
assistant professor of the Department of obstetrics and gynecology
Betrán AP, Ye J, Moller AB, et al. The Increasing Trend in Caesarean Section Rates: Global, Regional and National Estimates: 1990-2014. PLoS One. 2016;11(2):e0148343. doi: 10.1371/journal.pone.0148343.
ФГБУ «Центральный научно-исследовательский институт организации и информатизации здравоохранения» Минздрава Российской Федерации. Основные показатели здоровья матери и ребенка, деятельность службы охраны детства и родо вспоможения в Российской Федерации. Москва, 2015. [FGBU "Tsentral'nyy nauchno-issledovatel'skiy institut organizatsii i informatizatsii zdravookhraneniya" Minzdrava Rossiyskoy Federatsii. Osnovnye pokazateli zdorov'ya materi i rebenka, deyatel'nost' sluzhby okhrany detstva i rodovspomozheniya v Rossiyskoy Federatsii. Moscow: 2015. (In Russ.)]
Calculator – (MFMU) Network. VBAC calculator. Available at: https://mfmu.bsc.gwu.edu/PublicBSC/MFMU/VGBirthCalc/vagbirth.html. Retrieved November 19, 2015.
Guise JM, Eden K, Emeis C, et al. Vaginal birth after cesarean: new insights. Evid Rep Technol Assess (Full Rep). 2010;(191):1-397.
Kok N, Wiersma IC, Opmeer BC, et al. Sonographic measurement of lower uterine segment thickness to predict uterine rupture during a trialof labor in women with previous Cesarean section: a metaanalysis. Ultrasound Obstet Gynecol. 2013;42(2):132-139. doi: 10.1002/uog.12479.
Royal College of Obstetricians and Gynaecologists. Birth After Previous Caesarean Birth. Green-top Guideline No 45. October 2015.
Cahill AG, Waterman BM, Stamilio DM, et al. Higher maximum doses of oxytocin are associated with an unacceptably high risk for uterine rupture in patients attempting vaginal birth after cesarean deli very. American Journal of Obstetrics and Gynecology. 2008;199(1):32e1-5. doi: 10.1016/j.ajog.2008.03.001.
Supplementary files
There are no supplementary files to display.
Views
Abstract - 92
PDF (Russian) - 157