The state of the local immune status, the content of neopterin and cortisol in different variants of preterm labor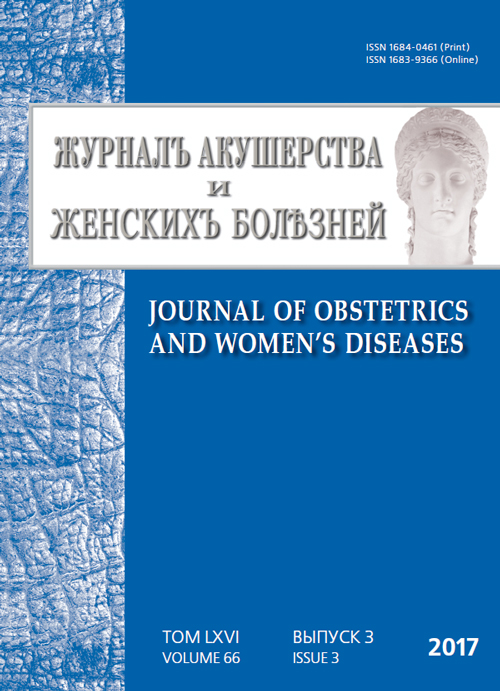 Authors: Katkova N.Y., Bodrikova O.I., Sergeeva A.V., Andosova L.D., Shahova K.A., Bezrukova I.M., Pokusaeva K.B., Ryzhova N.K.
Issue: Vol 66, No 3 (2017)
Pages: 60-70
Section: Articles
Abstract
Premature labour (PL) is one of the most actual and unsolved problem of obstetrics. There are many data in the li terature about the role of the disturbed ratio of pro- and antiinflammatory cytokines, neopterin in the implementation of PL. Many authors support the theory of the predominant fetus factor in the initiation of PL.
The goal of our research is studying of the characteristics of the local immune status, neopterin and cortisol levels in various variants of preterm labour.
Materials and methods. 77 patients were divided into 2 groups. The main group (52 pregnant women with PL) was also divided into 2 subgroups: the first (1A) subgroup consisted of 28 pregnant women with premature rupture of membranes (PROM) without regular labour contractions. Another subgroup (1B) was presented by 24 women with labour activity and unruptured amniotic sac (true PL). In the control group we included 25 women with term labour. The level of the expression of mRNA genes of a congenital immunity in a cervical canal by the test-system ImmunoQuantex (IL1B, IL10, IL18, TNF2, TLR4, GATA3, CD68, B2M), as well as serum levels of neopterin and cortisol. The results were analyzed by standard statistical methods.
Results. There were no significant difference in the expression levels of most of the genes of innate immunity between the study groups (p > 0.05). The investigation of expression of TLR4, GATA3 genes in different types of PL revealed a significant decrease (p < 0.05) in patients with PROM (1A subgroup). In addition in the 1A subgroup the inflammation index was higher (Me = 99,5%, p < 0.01). There were no fundamental difference in the state of the local immune status between groups of true preterm and term labour. Analysis of neopterin content among the subjects showed a significant increase in the main group (PL) compared with the control group (p = 0.0064). The comparison of the neopterin level between different variants of PL had a higher index (p < 0.025). The concentration of cortisol in the study groups had no principle difference from the main (PL) group and control group (p > 0.05). The maximum cortisol level was found in the subgroup 1B (true PL), which is significantly higher than in the subgroup 1A (with PROM) and in the control group (p < 0.01).
Conclusion. The difference in the state of local immune status in different variants of premature labour demonstrates different mechanisms of initiation of preterm labour. It is likely that the ratio of TLR4/GATA3 and index of inflammation determins the onset of preterm labour. The level of neopterin can be used as a marker of the onset of PL. The increase of cortisol determines the role of the fetus factor in the onset of labour.
Nadezhda Yu. Katkova
Nizhny Novgorod State Medical Academy
Author for correspondence.
Email: katkova_nu@inbox.ru

Russian Federation, 10/1, Minin and Pozharsky square , Nizhny Novgorod, 603005
MD, DSc, Head of the Department of obstetrics and gynecology of the Faculty of Doctors' Advanced Training
Olga I. Bodrikova
Nizhny Novgorod State Medical Academy
Email: olga.bodrikova@mail.ru

Russian Federation, 10/1, Minin and Pozharsky square , Nizhny Novgorod, 603005
PhD Student, Department of obstetrics and gynecology of the faculty of advanced training of doctors
Anzhelika V. Sergeeva
Nizhny Novgorod State Medical Academy
Email: sergeeva-av2013@yandex.ru

Russian Federation, 10/1, Minin and Pozharsky square , Nizhny Novgorod, 603005
DM, Associate professor Department of epidemiology
Larisa D. Andosova
Nizhny Novgorod State Medical Academy
Email: andosova@yandex.ru

Russian Federation, 10/1, Minin and Pozharsky square , Nizhny Novgorod, 603005
DM, Associate professor Department of Laboratory and clinical Diagnostics, Faculty of Doctors' Advanced Training
Ksenia A. Shahova
Nizhny Novgorod State Medical Academy
Email: kontclin@mail.ru

Russian Federation, 10/1, Minin and Pozharsky square , Nizhny Novgorod, 603005
DM, Associate professor Department of Laboratory and clinical Diagnostics, Faculty of Doctors' Advanced Training
Irina M. Bezrukova
Nizhny Novgorod State Medical Academy
Email: irinkabesrukova89@mail.ru

Russian Federation, 10/1, Minin and Pozharsky square , Nizhny Novgorod, 603005
PhD Student, Department of obstetrics and gynecology of the faculty of advanced training of doctors
Kseniya B. Pokusaeva
Nizhny Novgorod State Medical Academy
Email: pokusaeva.kseniya@mail.ru

Russian Federation, 10/1, Minin and Pozharsky square , Nizhny Novgorod, 603005
PhD Student, Department of obstetrics and gynecology of the faculty of advanced training of doctors
Nadezhda K. Ryzhova
Perinatal Center of Dzerzhinsk
Email: rnk71@mail.ru

Russian Federation, Dzerzhinsk
MD, Head
Савельева Г.М., Шалина Р.И., Курцер М.А. и др. Преждевременные роды как важнейшая проблема современного акушерства // Акушерство и гинекология. – 2012. – № 8(2). – С. 4–10. [Savelieva GM, Shalina RI, Kurtser MA, et al. Preterm labor as the most important problem of modern obstetrics. Obstetrics and Gynecology. 2012;8(2):4-10. (In Russ.)]
Серов В.Н., Сухорукова О.И. Профилактика преждевременных родов // Русский медицинский журнал. – 2014. – № 1. – С. 3–10. [Serov VN, Suhorukova O.I. Profilaktika prezhdevremennyh rodov. Russkij medicinskij zhurnal. 2014; (1):3-10. (In Russ.)]
Mattison D, Damus K, Fiore E, et al. Preterm delivery: a public health perspective. Paediatr Perinatal Epidemiol. 2001;15(2):7-16.
Радзинский В.Е. Акушерская агрессия. – М.: StatusPraesens, 2012. [Radzinskij VE. Akusherskaja agressija. Moscow: StatusPraesens; 2012. (In Russ.)]
Кокрановское руководство: Беременность и роды / ред. Г.Т. Сухих. – М.: Логосфера, 2010. [Kokranovskoe rukovodstvo: Beremennost' i rody. Ed by G.T. Suhih. Moscow: Logosfera; 2010. (In Russ.)]
Romero R, et al. Mechanisms of Preterm Labor and Preterm Premature Rupture of the Membranes. In: Texbook of Perinatal Medicine. 2nd ed. Ed by A. Kurjak, F. Chervenak. NY; 2012.
Адамян Л.В., Серов В.Н., Сухих Г.Т., Филиппов О.С. Клинические рекомендации. Акушерство и гинекология (протоколы лечения) // Проблемы репродукции. – 2015. – № 6. – С. 55–78. [Adamjan LV, Serov VN, Suhih GT, Filippov OS. Klinicheskie rekomendacii. Akusherstvo i ginekologija (protokoly lechenija). Problemy reprodukcii. 2015;(6):55-78. (In Russ.)]
Кан Н.Е., Санникова М.В., Амирасланов Э.Ю., и др. Клинические предикторы прогнозирования преждевременного разрыва плодных оболочек // Вопросы гинекологии, акушерства и перинатологии. – 2013. – № 12(3). – С. 12–18. [Kan NE, Sannikova MV, Amiraslanov EYu, et al. Clinical predictors in prognosis of premature rupture of membranes. Voprosy ginekologii, akusherstva i perinatologii. 2013;12(3):12-18. (In Russ.)]
ACOG Committee on Practice Bulletins-Obstetrics, authors. Clinical management guidelines for obstetrician – gynecologists. (ACOG Practice Bulletin No. 160: premature rupture of membranes) Obstet Gynecol. 2016;127.
Власова Т.А., Вальдман С.Ф., Иванова Н.В., и др. Факторы риска и особенности ведения преждевременных родов // Репродуктивное здоровье женщины. – 2000. – № 2. – С. 153–160. [Vlasova TA, Valdman SF, Ivanova NV, et al. Faktory riska i osobennosti vedenijaprezhdevremennyh rodov. Reproduktivnoe zdorov'e zhenshhiny. 2000;(2):153-60. (In Russ.)]
Меджидова М.К., Тютюнник В.Л., Кан Н.Е., и др. Роль синдрома системного воспалительного ответа в развитии преждевременных родов // Проблемы репродукции. – 2016. – № 2. – С. 116–120. [Medzidova MK, Tyutyunnik VL, Kan NE, et al. The role of systemic inflammatoryresponse syndrome in preterm labour development. Problemy reprodukcii. 2016;(2):116-20. (In Russ.)]
Сидельникова В.М., Сухих Г.Т. Невынашивание беременности. – М.: МИА, 2010. [Sidelnikova VM, Suhih GT. Nevynashivanie beremennosti. Moscow: MIA; 2010. (In Russ.)]
Тютюнник В.Л., Курчакова Т.А., Кан Н.Е., и др. Локальные факторы врожденного иммунитета в прогнозировании преждевременных родов // Акушерство и гинекология. – 2016. – № 10. – С. 59–63. [Tyutyunnik VL, Kurchakova TA, Kan NE, et al. Local factors of innate immunity in the prediction of preterm birth. Obstetrics and gynecology. 2016;(10):59-63. (In Russ.)]
Свиридов Е.А., Телегина Т.А. Неоптерин и его восстановительные формы: биологическая роль и участие в клеточном иммунитете // Успехи биологической химии. – 2005. – Т. 45. – С. 355–390. [Sviridov EA, Telegina TA. Neopterin i ego vosstanovitel'nye formy: biologicheskaja rol i uchastie v kletochnom immunitete. Uspehi biologicheskoj himii. 2005;45:55-90. (In Russ.)]
Патент РФ № 2281504/15.09.2004. Левкович М.А., Орлов В.И., Сизякина Л.П., Стояненко О.О. Способ прогнозирования угрозы прерывания беременности при урогенитальной инфекции. [Patent RUS No 2281504/15.09.2004. Levkovich MA, Orlov VI, Sizjakina LP, Stojanenko OO. Sposob prognozirovanija ugrozy preryvanija beremennosti pri urogenital'noj infekcii. (In Russ.)]
Жуковец И.В., Зарицкая Э.Н. Синтез стероидных гормонов во время беременности // Якутский медицинский журнал. – 2012. – № 2. – С. 96–98. [Zhukovec IV, Zarickaja JeN. Sintez steroidnyh gormonov vo vremja beremennosti. Jakutskij medicinskij zhurnal. 2012;(2):96-8. (In Russ.)]
Чернуха Е.А. Родовый блок. – М.: Триада-Х, 2005. [Chernuha EA. Rodovyj blok. Moscow: Triada-X; 2005. (In Russ.)]
Петров С.Н. Проблема преждевременного разрыва плодных оболочек и тактика ведения преждевременных родов // Акушерство, гинекология и репродукция. – 2012. – Т. 6. – № 1. – С. 50–52. [Petrov SN. The problem of premature ruptured membranes and management of preterm labor. Obstetrics, gynecology and reproduction. 2012;6(1):50-2. (In Russ.)]
Макаров О.В., Романовская В.В., Кузнецов П.А., и др. Иммунологические аспекты преждевременных родов инфекционного генеза // Вестник РУДН. Медицина. Акушерство и гинекология. – 2011. – № 6. – С. 373–379. [Makarov OV, Romanovskaja VV, Kuznecov PA, et al. Immunologicheskie aspekty prezhdevremennyh rodov infekcionnogo geneza. Vestnik RUDN. Medicina. Akusherstvo i ginekologija. 2011;(6):373-9. (In Russ.)]
Jones NM, Holzman C, Friderici KH, et al. Interplay of cytokine polymorphisms and bacterial vaginosis in the etiology of preterm delivery. J Reprod Immunol. 2010;87(1-2):82-9. doi: 10.1016/j.jri.2010.06.158.
Adams Waldorf KM, Persing D, Novy MJ, et al. Pretreatment with toll-like receptor 4 antagonist inhibits lipopolysaccharide-induced preterm uterine contractility, cytokines, and prostaglandins in rhesus monkeys. Reprod Sci. 2008;15(2):121-7. doi: 10.1177/1933719107310992.
Макаров О.В., Бахарева И.А., Ганковская Л.В., и др. Молекулярные механизмы инфекционного невынашивания беременности // Российский медицинский журнал. – 2009. – № 2. – С. 24–28. [Makarov OV, Bahareva IA, Gankovskaja LV, et al. Molekuljarnye mehanizmy infekcionnogo nevynashivanija beremennosti. Rossijskij medicinskij zhurnal. 2009;(2):24-8. (In Russ.)]
Osman I, Young A, Ledingham M, et al Leukocyte density andproinflammatory cytokine expression in human fetal membranes, decidua, cervix and myometrium before and during labour at term. Mol Hum Reprod. 2003;(9):41-5.
Navolan DB, Vladareanu S, Lahdou I, et al. Early pregnancy serum neopterin concentrations predict spontaneous preterm birth in asymptomatic pregnant women. J Perinatal Med. 2016;44(5):517-22. doi: 10.1515/jpm-2015-0081.
Федерякина О.Б., Виноградов А.Ф., Горшкова М.А., и др. Уровень неоптерина в сыворотке крови у доношенных новорожденных в процессе их адаптации к внеутробной жизни // Клиническая лабораторная диагностика. – 2013. – № 3. – С. 13–15. [Federjakina OB, Vinogradov AF, Gorshkova MA, et al. Uroven' neopterina v syvorotke krovi u donoshennyh novorozhdennyh v processe ih adaptacii k vneutrobnoj zhizni. Klinicheskaja laboratornaja diagnostika. 2013;(3):13-5. (In Russ.)]
Логинова И.Г., Эстрин В.В. Содержание неоптерина у новорожденных с респираторными нарушениями и перинатальными поражениями ЦНС // Российский вестник перинатологии и педиатрии. – 2008. – № 4. – С. 23–24. [Loginova IG, Jestrin VV. Soderzhanie neopterina u novorozhdennyh s respiratornymi narushenijami i perinatal'nymi porazhenijami CNS. Rossijskij vestnik perinatologii i pediatrii. 2008;(4):23-24 (In Russ.)]
Yael Hoffman S, Lee L, Thomas AM, et al. Fetal adrenal gland volume and preterm birth: a prospective third-trimester screening evaluation. The journal of maternal-fetal and neonatal medicine. 2016;(10):1552-5. doi: 10.3109/14767058.2015.1059811.
Petraglia F, Imperatore A, Challis JR. Neuroendocrine mechanisms in pregnancy and parturition. Endocrine Reviews. 2010;31(6):783-816. doi: 10.1210/er.2009-0019.
Аржаева И.А. Патогенетическое обоснование акушерской тактики при преждевременном излитии околоплодных вод у первобеременных женщин: дис. … канд. мед. наук. – Волгоград, 2014 [Arzhaeva IA. Patogeneticheskoe obosnovanie akusherskoj taktiki pri prezhdevremennom izlitii okoloplodnyh vod u pervoberemennyh zhenshhin. [dissertation] Volgograd; 2014. (In Russ.)]