INFLUENCE OF DIPYRIDAMOLE AND ATP ON IMMUNOSUPRESSING PROPERTIES OF ERYTHROCYTES AND THROMBOCYTES IN EXPERIMENTAL NON - OBSTRACTIVE PYELONEPHRITIS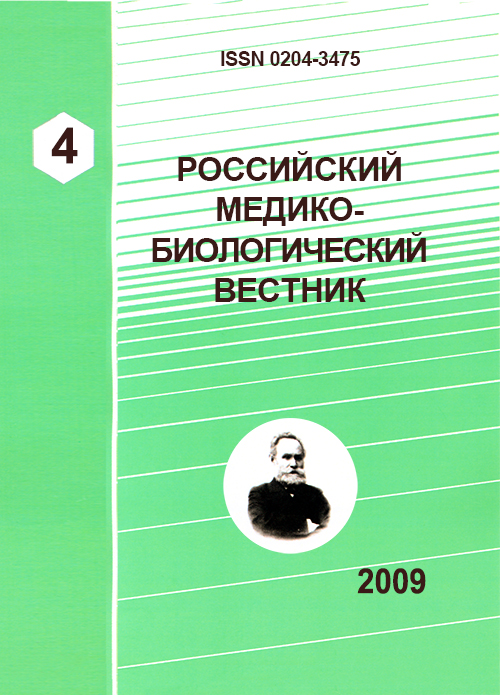 Abstract
Investigations on 175 Wistar rats showed that thrombocytes of animals with non-obstructive pyelonephritis have possessed immunosupressing properties being increased on interaction with light erythrocytes and serum factors, accumulated in blood of rats with pyelonephritis. Introduction of dipyridamole and ATP blocked thromboerythrocyte chain of immunosuppression development in rats with pyelonephritis. Here, the pyridamole action was directed to thrombocyte - erythrocyte unit, and the ATP action - to light erythrocytes.
Keywords
References
Афанасьев В.А. О механизме развития иммуносупрессии при острой почечной недостаточности / В.А. Афанасьев, И.Л. Ласкова // Патол. физиол. и эксперим. терапия. - 1997. - №3. - с.31 - 35
Влияние тромбоцитов на генерацию активных форм кислорода лейкоцитами / А.Х. Коган и др.// Бюл. экспер. биол. и мед. - 1992. - Т. 113, №6. - с.528 - 584
Гумблер Е.В Применение непараметрических критериев статистики в медико - биологических исследованиях / Е.В. Гумблер, А.И. Генкин. - Л.: Медицина, 1973. - 141с.
Есилевский Ю.М. Патогенез пиелонефрита/ Ю.М. Есилевский - М.: МЕДпресс-информ, 2007 - 362с.
Зауэр Х. Метод иммунных розеток/ Х. Зауэр// Иммунологические методы; Под ред. Х. Фримеля: Пер. с нем.-М.: Мир,1987.- С.273-282.
Лакин Г.Ф Биометрия / Г.Ф. Лакин. - М.: Высшая школа, 1980. - 293с.
Мальберг К. Метод локального гемолиза/ К. Мальберг, Э. Зигль// Иммунологические методы; Под ред. Х. Фримеля: Пер. с нем. - М.: Мир, 1987. - С.57 - 72.
Методика разделения эритроцитов на возможные группы / Т.В. Кобзев и др. // Патол. системы крови и кровообращения: Сб. ст. - Симферополь, 1978. - с.49 - 51.
Руководство по иммунологическим и аллергологическим методам в клинических исследованиях / Т.В. Федосеева и др. - М., 1993. - 319с.