Report of the Odessa City Psychiatric Hospital for 1906, compiled by the doctors of the hospital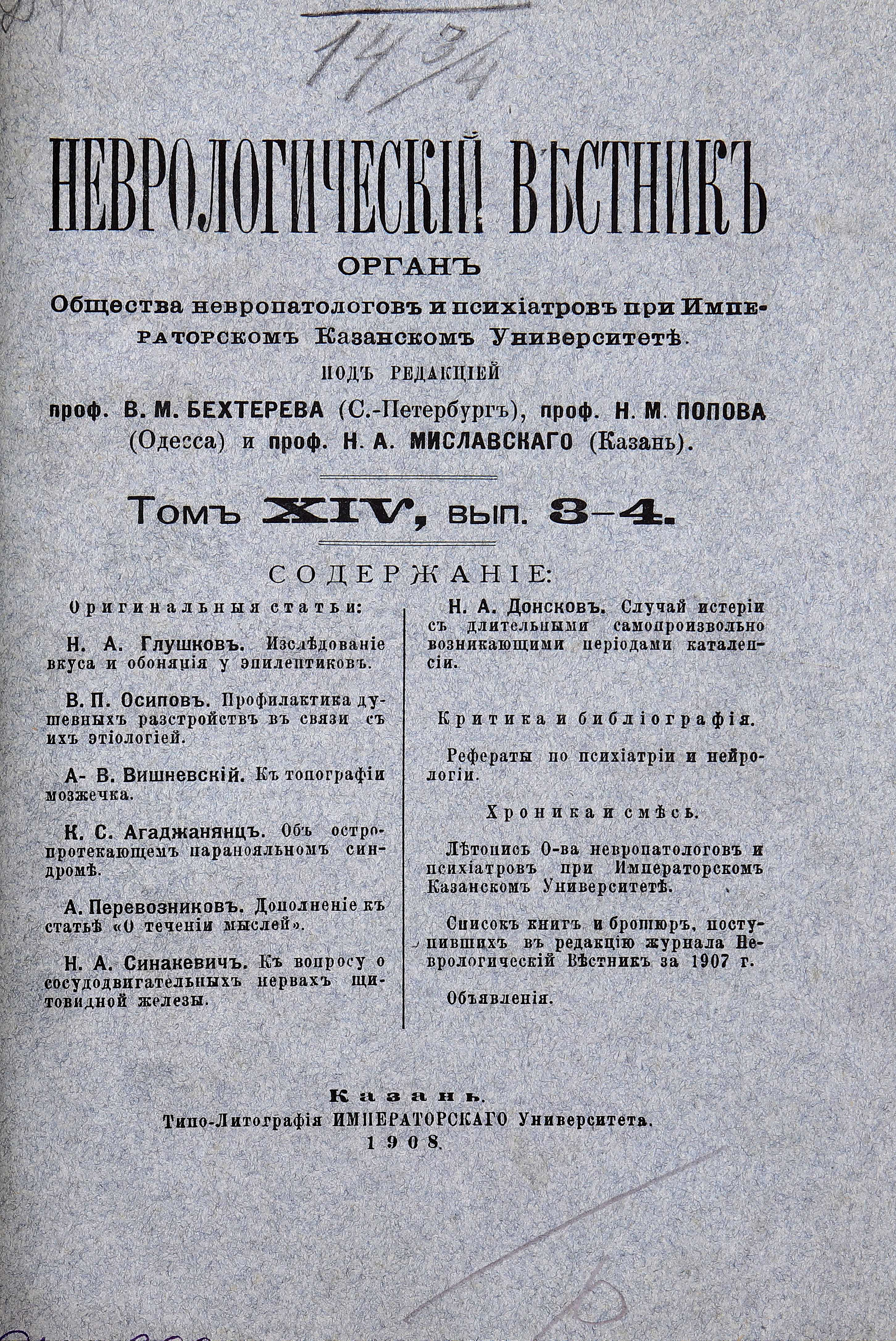 Cite item
Abstract
The report is a careful selection of digital data that illuminate in detail and visually the aspects of hospital life for the reporting year, especially since these data are organized into interesting general conclusions.
Keywords
Full Text
Отчетъ представляетъ собой тщательный подборъ цифровыхъ данныхъ, освѣщающихъ детально и наглядно различныя стороны жизни больницы за отчетный годъ, тѣмъ болѣе, что данныя эти организованы въ интересные общіе выводы.
Въ больницѣ находилось на пользованіи въ 1906 г.— 1257 ч., изъ этого числа выбыло 597 ч. (здоровыми 15,24%, съ улучшеніемъ—47, 85%, безъ улучшенія—33,67%), умерло 94 ч. (61,7% прогрес. парал.) и на 1-ое января 1907 г. оставалось 566 ч. Среднее ежедневное число больныхъ составляло 564 ч. По процентному отношенію на первомъ мѣстѣ стояли прогрес. паралитики—17,8%, за ними шли страдающіе dementia praecox—15,3% и острыми психозами—10,6%, вторичное слабоуміе изъято изъ этой сравнительной количественной оцѣнки.
Maximum душевно-больныхъ среди мужчинъ падалъ на возрастъ 30—40 лѣтъ, среди женщинъ—20—30 л. Русскіе составляли 57,7%, евреи—83,1% больныхъ.
На каждаго врача (8 ч.) приходилось въ среднемъ 70— 75 б., на фельдшера (6 ч.)—95 б., на лицо надзирательскаго персонала (29 ч.) — 20—22 б., на служителя (182 ч)—3,1 б.
Къ отчету приложена работа доктора Фельцмана "къ вопросу о стаціонарномъ параличѣ"; авторъ раасматриваетъ 4 случая съ картиной какъ бы замедленнаго прогрес. паралича и приходитъ къ выводу, что на основаніи этихъ данныхъ "нельзя установить возможности такой формы, какъ стаціонарный параличъ",—въ случаяхъ сомнительныхъ вѣроятнѣе предполагать lues cerebri.
И. Ж.