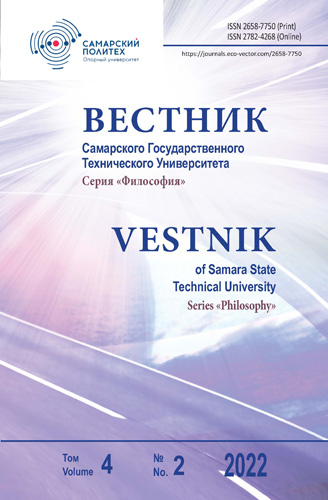 Vestnik of Samara State Technical University. Series Philosophy
The journal has been founded in 2019. At the present day the journal founder is Federal State-Funded Educational Institution of Higher Education Samara State Technical University. Registration Certificate "PI № FS77-68052" dated 13.12.2016. The journal was assigned the international number of periodicals ISSN 2542-0151.
Articles submitted for publication in the journal are subject to mandatory independent review, the reviewers are members of the editorial board and leading Russian scientists working in the field of scientific topics of the journal.
The journal is published once a quarter (four times a year) in the following enlarged sections "Philosophy", which includes the following thematic headings:
07.00.10 - History of Science and Technology
09.00.01 - Ontology and Theory of Knowledge
09.00.03- History of Philosophy
09.00.04 - Aesthetics
09.00.05 - Ethics
09.00.07 - Logic
09.00.08 - Philosophy of Science and Technology
09.00.11 - Social Philosophy
09.00.13 - Philosophical anthropology, Philosophy of culture
09.00.14 - Philosophy of religion and religious studies Art and cultural studies
17.00.09 - Theory and History of Art
24.00.01 - Theory and history of Culture
All questions on manuscript submission are to be referred to Isaev R. O., the executive secretary of the journal , romanceisaev@gmail.com
Announcements
No announcements have been published.
Current Issue
Vol 4, No 2 (2022)